Proteomics is a large-scale comprehensive study of a specific proteome, including information on protein abundances, the variations and modifications, as well as their interacting partners and networks. In discovery proteomics, proteome analysis can be performed in two different strategies, bottom-up and top-down approaches, respectively. In the bottom-up approach, a crude protein mixture undergoes protease digestion first, and then separation by liquid chromatography, followed by MS analysis. In the top-down method, proteins are characterized by MS without prior proteolysis. This type of approach has the advantage of providing greater sequence coverage, resolution of sequence ambiguities and preservation of PTMs.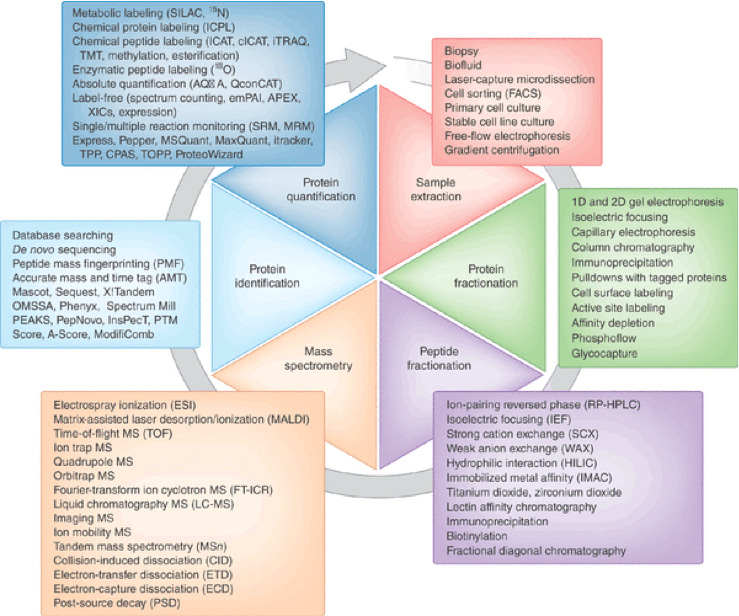 In most protein profiling projects, the major task is to quantitate the amount of each protein in a sample either relative to another sample, or in absolute terms. Current techniques can be broadly divided into data-dependent and data-independent methods. In data-dependent methods, the selection of peptide fragments to be for subsequent MS/MS analysis depends on pre-established criteria. Whereas, in data-independent methods, all peptides (within a pre-determined mass range) are fragmented indiscriminately. Data-independent methods are relatively new but hold great promise for the future of quantitative proteomics. The advantages of this method are that it potentially can analyze all species that are present in a specific sample at detectable concentrations in a single assay and that the data can be retrospectively used as improved software and in silico databases become available.
Nowadays, proteomics research is widely applied in many scientific fields, such as:
Diabetes research
Cancer research
Diagnostic biomarker discovery
Plant and animal phenotyping
Microbiology
Drug discovery and development
Toxicological testing
Antibody profiling for study and treatment disease
With years' experience in advanced experiment equipment, Creative Proteomics can provide a variety of proteomics services to assist your scientific research, including:
Creative Proteomics, staffed by highly experienced biological scientists in omics studies, can provide a series of proteomics and bioinformatics analysis services for our customers. Please feel free to contact us and see how we can help you address your problems.