Amylopectin, the counterpart of amylose, is a polysaccharide containing a branched structure with mostly short chains of α-(1→4)-linked anhydroglucose units which are interlinked by α-(1→6)-glucosidic linkages at approximately every 20 to 30 anhydroglucose units. It is made up of around 1000 glucose units and is one of the largest molecules found in nature. It is one of the two main components in starches.
Amylopectin is a highly-branched molecule, and those branch points in Amylopectin make up approximately 4 to 6% of total linkages. It consists of three different types of chains. The A chains, also known as the unbranched chains, are the linear segments linked to other B or C chains by their reducing ends through a single α-(1→6)-linkage. The B chains are those linked to other B or C chains through α-(1→6)-linkages and also carry one or more A or B chains attached to them. The C chains are the single, central chain that carries the only reducing group of the amylopectin molecule. Each amylopectin molecule has only one C chain.
A number of parameters have been used in order to describe the structural characteristics of amylopectin molecules from various botanical sources. As one of the key parameters, amylopectin chain length distribution is the first structural level and involves individual chains from a branch point. It plays a very important role to determine gelatinization temperature and to characterize the structural of amylopectin.
The amylopectin chain length distribution can be profiled by using high-performance anion-exchange chromatography (HPAEC). Examples of branch chain length distribution are shown in Figure 1. The average branch chain length of amylopectin has a bimodal distribution and each starch has a distinct branch chain length distribution profile.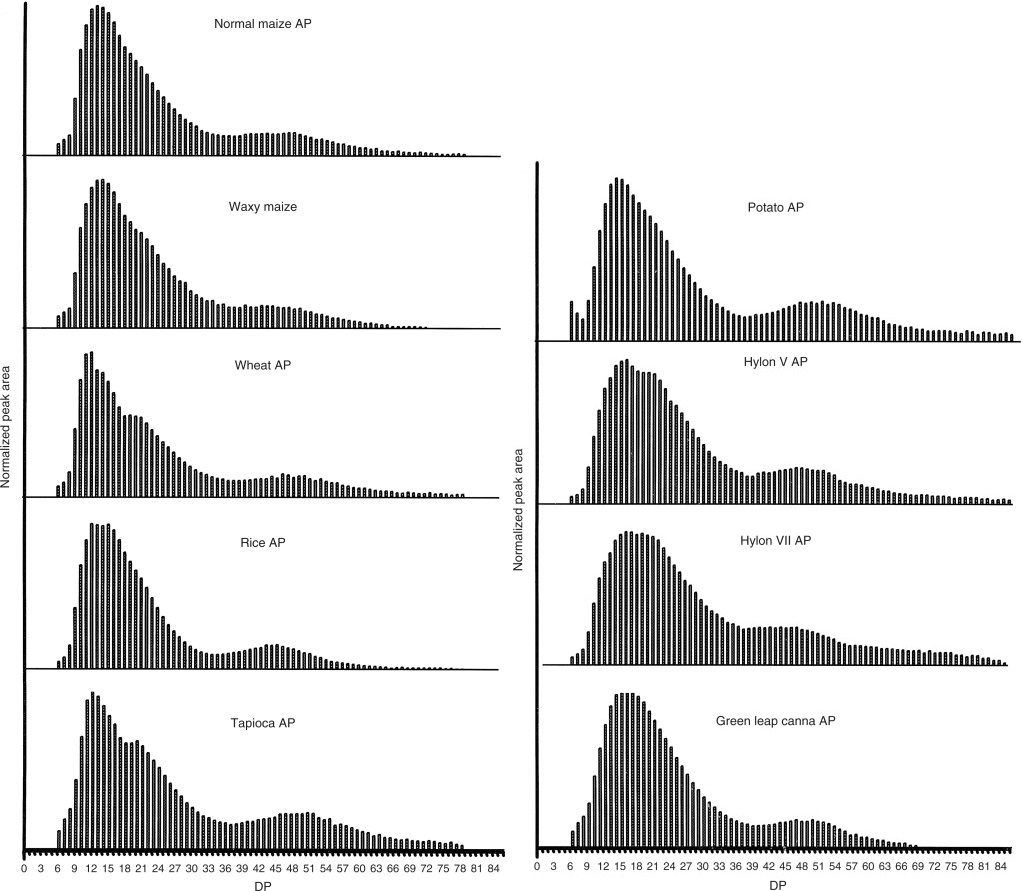 Figure 1. Examples of amylopectin branched-chain length distribution of various types of starches
The method of chain length distribution profiling briefly includes deproteinization of starch with protease and sodium bisulfite, and then hydrolysis / debranching with isoamylase, and final analysis by using HPAEC. The chain length distribution is generally characterized as a percentage of the total peak area. According to the degree of polymerization (DP), the branch chains of amylopectin are usually fractionated and defined as A chains as having DP 6–12, B1 chains as having DP 13–24, B2 chains as having DP 25–36 and B3 chains as having DP > 37. The examples of branch chain length distributions of amylopectins are shown in Table 1.
Table 1. Branch chain length distributions of amylopectins
Source

Peak DP

% distribution

Highest detectable DP

I

II

DP 6–12

DP 13–24

DP 25–36

DP ≥ 37

Normal maize

13

48

17.9

47.9

14.9

19.3

80

Waxy maize

14

48

17.0

49.4

17.1

16.5

73

Rice

12

46

19.0

52.2

12.3

16.5

80

Wheat

12

41

19.0

41.7

16.2

13.0

77

Tapioca

12

49

17.3

40.4

15.6

26.7

79

Hylon V

16

48

9.7

43.9

20.3

26.1

86

Hylon VII

16

48

8.5

40.7

21.3

29.5

86

Potato

14

52

12.3

43.3

15.5

28.9

85

Green leaf canna

15

52

11.7

45.3

16.2

26.8

85
As one of the leading companies in the omics field with over years of experience in omics study, Creative Proteomics provides glycomics analysis service customized to your needs. Contact us to discuss your project.
How to place an order:

*If your organization requires signing of a confidentiality agreement, please contact us by email.
References
Hanashiro I, Abe J, Hizukuri S. (1996) A periodic distribution of the chain length of amylopectin as revealed by high-performance anion-exchange chromatography. Carbohyd. Res. 283:151–159.
Lin L, et al. (2016) Molecular structure and enzymatic hydrolysis properties of starches from high-amylose maize inbred lines and their hybrids. Food Hydrocolloid. 58:246–254.
Jay-lin Jane (2009) Chapter 6 - Structural Features of Starch Granules II. Starch (Third Edition) Chemistry and Technology, Food Science and Technology, P193-236.