Flow Cytometry Service
---
Fluorescence–activated cell sorting (FACS) is the development of flow cytometry which can be used to sort a heterogenous mixture of cells into different homogenous subpopulations of interest based upon the specific light scattering and fluorescent characteristics of each cell. In a complex cell mixture, the different homogenous subpopulations may have different antigenic and other markers on their surface. These markers can be tagged by the means of fluorescent labels which can be detected by laser and light detectors of fluorescence-activated cell sorting. It is a powerful and versatile technology which can provide rapid, accurate and high throughput cell analysis. This technology can be widely used in scientific research such as cell cycle, cell proliferation, cell viability, cell phenotyping, cell signaling, micronucleus test, intracellular cytokine secretion and so on.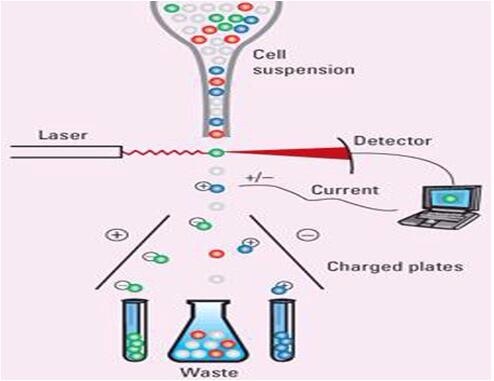 Figure 1. The basic principle of FACS
Fluorescence–activated cell sorting can sort cells automatically based either on cellular properties or by fluorescent labeling. The ability to sort cells based on physical characteristic and their fluorescent label signatures make it possible to isolate well-defined subpopulations of cells more easily than with other separation methods such as magnetic separation and so on. The use of fluorescent colors makes it possible to detect different subpopulations of interest simultaneously, this can save a lot of time and labor and make fluorescence-activated cell sorting a great advantage, compared to other methods of cell analysis. The reporter gene system including green fluorescent protein (GFP) which is widely used as a reporter gene. It is quite convenient to study cell function and signal transduction in this method. Another complementary tool of fluorescence-activated cell sorting is monoclonal antibodies. As is commonly known, each kind of monoclonal antibodies is highly specific for its target antigens and can readily be coupled with fluorescein, phycobiliproteins and other fluorochromes. Monoclonal antibodies widely used as FACS reagents have enabled definition of hundreds of target antigens present on or in cells. FACS is also the most efficient way of cloning cells, especially when they are present in a very low frequency.

Figure 2. The experimental results of FACS
We have experienced and excellent experts that can provide ideal and customer-tailored experimental designs. The advanced experimental platform in our laboratory makes experiments conducted accurately and with high efficiency. The powerful analysis software and seasoned bioinformation specialists in our team can offer you the professional data analysis.
How to place an order:

*If your organization requires signing of a confidentiality agreement, please contact us by email.
Our customer service representatives are available 24 hours a day, from Monday to Sunday.
Inquiry