Equipped with state-of-the-art technologies such as high-performance liquid chromatograph coupled to tandem mass spectrometry (LC-MS/MS) and advanced computational algorithms, Creative Proteomics can offer accurate and fast antibody de novo sequencing service customized to your needs.
De novo sequencing of antibodies refers to the analytical process of deriving the amino acid sequence of an antibody and discovering any associated post-translational modification without knowing DNA or protein sequence beforehand.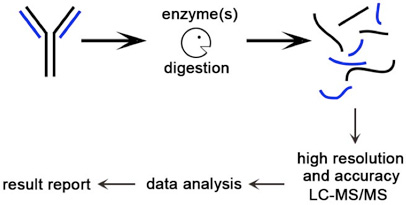 In a typical workflow, the antibody is digested by using a panel of different enzymes (either one at a time or a combination of a few) including the most commonly used one: trypsin and several others such as Glu-C, Asp-N, chymotrypsin and etc. If required, the heavy and light chains of the antibody can be separated prior to enzymatic digestion. Then the digested peptides are analyzed by LC-MS/MS. Creative Proteomics uses hybrid quadrupole-Orbitrap mass spectrometers for data acquisition, which generates data with superior quality: high resolution and accuracy. Lastly, our senior specialists perform data analysis by using the most advanced computational algorithms, which efficiently derive the amino acid sequence of digested peptides and assemble overlapped peptides. Eventually, a comprehensive result report including raw MS data is provided to our customers.
We only need a few hundred micrograms of an antibody with a minimum purity of 95% for de novo antibody sequencing. Leucine and isoleucine are assigned based on preferences of enzyme cleavage sites and frequencies in our database.
Besides the primary amino acid sequence of heavy and light chains of the antibody, Creative Proteomics is also able to characterize post-translational modifications such as glycosylation and others according to customers' requests. Please contact us if you are interested in sequencing your antibody of interest and our experts are willing to help and discuss your needs in detail.