Amino Acid Analysis (AAA)
---
If an exact knowledge of protein/peptide quantities is required for further applications, quantitative amino acid analysis, qAAA, is a suitable assay, which can not only determine protein quantities precisely, but also provide detailed information regarding the relative amino acid composition and free amino acids. The AAA procedure includes hydrolysis, separation, detection and quantification.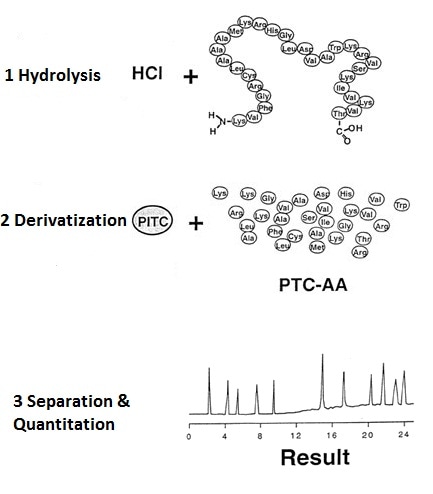 Hydrolysis is typically achieved under acid conditions. A standard procedure is hydrolysis with 6 M hydrochloric acid (24 hours, 110°C). Fragile amino acids, especially tryptophan and cysteine, will be partially destroyed. And then hydrolyzed samples (amino acids) are derivatized pre-column or post column for sensitive detection, separated by RP/SCX column. The use of internal and external standards of known amount is crucial for accurate quantification of each amino acid.
Equipped with automatic amino acid analyzer, Creative Proteomics can provide highly reproducible quantitative analysis of protein/peptide samples the customers submit, for estimation of amino acid composition of specific proteins, and purity determination.
* For Research Use Only. Not for use in diagnostic procedures.
Our customer service representatives are available 24 hours a day, 7 days a week.
Inquiry
Related Sections

Services

Platform

Resource