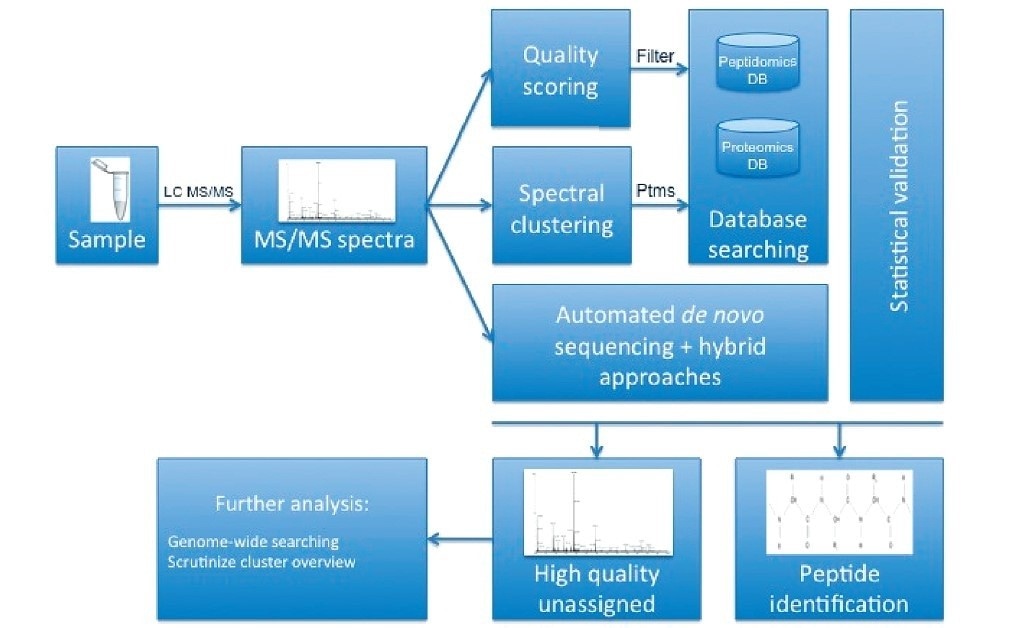 The aim of comprehensive peptidomics, is not only to identify and validate all endogenous peptides in a biological sample under investigation, but also to compare expression levels of the peptides of interest for specific biochemical processes. Thus, the unbiased identification of biologically interesting peptides became possible with the aid of mass spectrometry, rather than a ligand binding assay.
Although peptidomics and proteomics share many of the same general objectives and techniques in research strategies, there are still several major differences. Enzymes of digestive specificity are usually not applied in peptidomics studies so that the native peptides can be identified, including any post-translational modifications, with MS and MS/MS.
With the emergence and advancement of MS/MS sequencing technique, MS-based peptide identification has largely replaced the conventional sequencing assay, Edman degradation. A number of studies have used mass spectrometry to examine peptides invarious tissue extracts. Typical peptidomics studies are focused on bioactive peptides.
By removing most of the proteins in biological samples, body fluids and tissue extracts, with size exclusion chromatography, LC-MS based method can be quickly developed and validated for peptide identification with high accuracy and reproducibility. After comprehensive and detailed discussion with the clients, Creative Proteomics can provide customer-tailored analytical service in peptidomic researches.