Sterol Lipids Analysis Service
---
Sterols are a group of naturally occurring substances derived from hydroxylated polycyclic isopentenoids having a 1,2-cyclopentanophenthrene structure. The sterols generally can be categorized into three subclasses: 4,4-desmethylsterols, 4a-methylsterols and 4,4-dimethylsterols. Sterols are known to have a wide range of biological activities and physical properties. Sterols Lipid Analysis Service at Creative Proteomics is aimed to simplify your research steps. Our scientist devotes their work in SOP optimized and analytical equipment improvement.
Sterols analysis workflow at Creative Proteomics: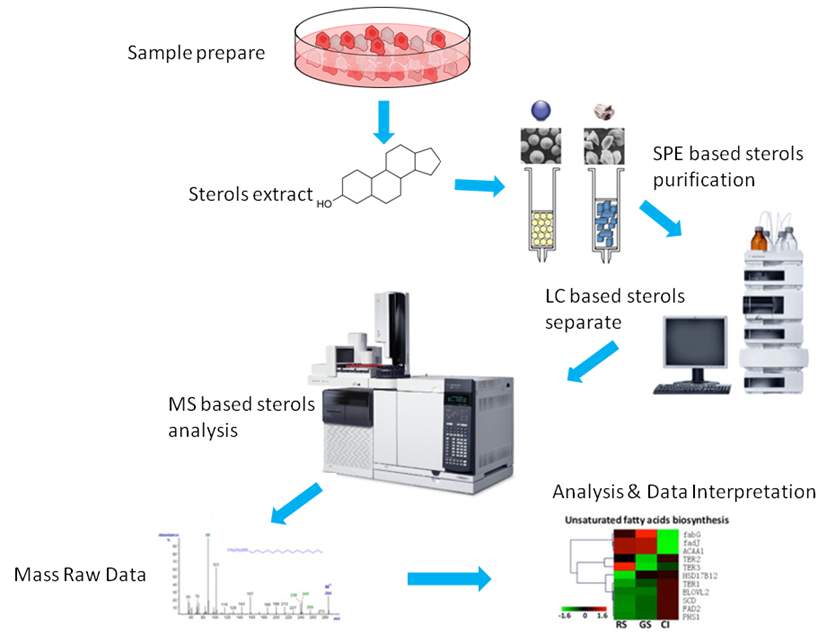 Equipped with advanced electrospray ionization mass spectrometry (ESIMS) for sterols quantification, sophisticated detection techniques, and a panel of experienced scientists and technicians, Creative Proteomics provide customer-tailored service with rapid analysis procedures and easy to read report, to speed up your scientific research.
Technology Platform:
ESI Liquid Chromatography Mass Spectrometry (ESI- LC/MS)
Sample Type:
Cultured Cells
Cultured or uncultured primary mouse cells or cell lines
Sterols from thioglycolate-elicited intraperitoneal macrophages
Sterols could monitored in This Service
Ordering Procedure:

With integrated set of separation, characterization, identification and quantification systems featured with excellent robustness & reproducibility, high and ultra-sensitivity, Creative Proteomics provides reliable, rapid and cost-effective Lipidomics services.
* For Research Use Only. Not for use in diagnostic procedures.
Our customer service representatives are available 24 hours a day, 7 days a week.
Inquiry