Sterols are a group of naturally occurring substances derived from hydroxylated polycyclic isopentenoids having a 1,2-cyclopentanophenthrene structure. The sterols generally can be categorized into three subclasses: 4,4-desmethylsterols, 4a-methylsterols and 4,4-dimethylsterols. Sterols are known to have a wide range of biological activities and physical properties. Sterols Lipid Analysis Service at Creative Proteomics is aimed to simplify your research steps. Our scientist devotes their work in SOP optimized and analytical equipment improvement.
Significance Of Targeted Detection Of Sterol
Steroid hormones, also known as steroid hormones, are structures composed of four fused rings, whose precursor is cholesterol. Cholesterol undergoes a series of metabolic reactions to produce five steroid hormones: progesterone, glucocorticoid, mineralocorticoid, estrogen and androgen. The increase or decrease of human steroid hormones is closely related to some common clinical diseases, such as congenital adrenal hyperplasia, Cushing's syndrome, polycystic ovary syndrome, adrenal insufficiency, etc. By monitoring the changes in the content of steroid hormones in the human body, it is very important for clinical testing And diagnosis is one of the crucial means.
Steroid hormones and their metabolites are characterized by diverse structures, generally low content, similar skeleton structures, physical and chemical properties, and stereoisomers with identical structures. These factors present significant challenges for the efficient and accurate detection of steroid hormones.
Methods Of Targeted Detection Of Sterol
Liquid chromatography tandem mass spectrometry (LC-MS/MS) technology is one of the commonly used metabolites detection and analysis methods. Due to its strong specificity, high sensitivity, and fast analysis speed, it is favored by mass spectrometry scholars and medical researchers.
In order to provide better service, Creative Proteomics has developed a high-throughput, high-coverage, high-sensitivity targeted quantification method for steroids. Through one analysis, the levels of multiple steroid hormones can be quantified at the same time, which can effectively save manpower and material resources, improve throughput and meet the detection requirements of most steroid hormones in the laboratory.
Sterols Analysis Workflow at Creative Proteomics: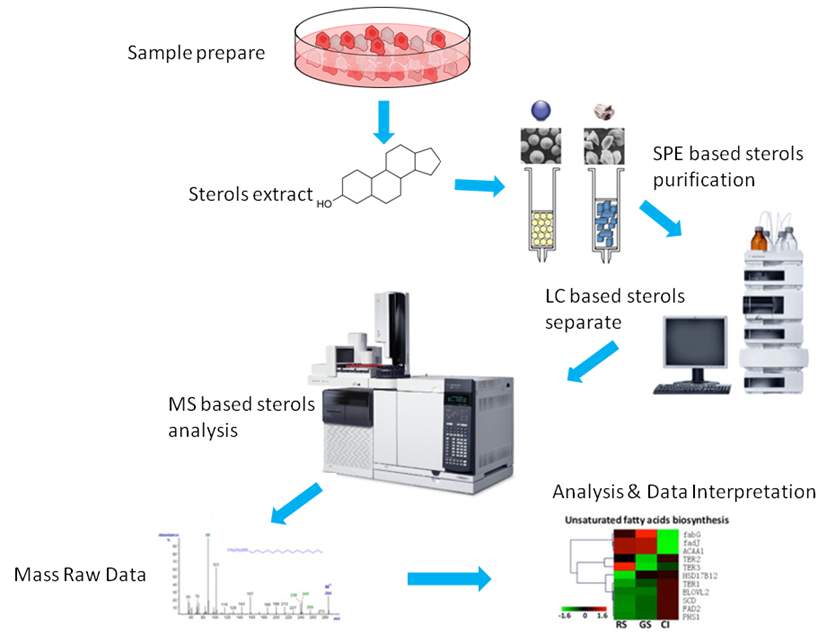 Equipped with advanced electrospray ionization mass spectrometry (ESIMS) for sterols quantification, sophisticated detection techniques, and a panel of experienced scientists and technicians, Creative Proteomics provide customer-tailored service with rapid analysis procedures and easy to read report, to speed up your scientific research.
Our company can quantitatively determine more than 30 kinds of steroids, covering common animal sterols, plant sterols and mycosterols, with the advantages of less sample volume, high sensitivity, stability and reliability.
Sterols could monitored in This Service
19-Hydroxycholesterol
19-Hydroxycholesterol
20-Hydroxycholesterol
20-Hydroxycholesterol
22r-Hydroxycholesterol
24,25-Epoxycholesterol
24-Dihydrolanosterol
24-Hydroxycholesterol
25-Hydroxycholesterol
26-Hydroxycholesterol
3,16dioxo cholestenoic acid
3,16dioxo cholestenoic acid
3β, 15α cholestanol
3β,15α cholestanol
3β,15β cholestanol
3β,15β cholestanol
4,6 Chlestadiene -3-one
4,6 Chlestadiene-3-one
4-chol-22OH-3one
4-chol-22OH-3one
4-chol-24OH-3one
4-chol-24OH-3one
4-chol-25OH-3one
4-chol-25OH-3one
4-chol-26(25r)OH-3one
4-chol-26(25r)OH-3one
4-chol-26(25s)OH-3one
4-chol-26(25s)OH-3one
4-chol-27acid-3one
4-chol-27acid-3one
4-chol-2OH-3one
4-chol-2OH-3one
4β-Hydroxycholesterol
5/6α Epoxycholesterol
5/6β Epoxycholesterol
5-chol-3-one
5-chol-3-one
7-Dehydrocholesterol
7ketocholestanone
7ketocholestanone
7-Ketocholesterol
7α hydroxycholestenone
7α hydroxycholestenone
7α-Hydroxycholesterol
8(14) cholesten 3OH 15one
8(14) cholesten 3β,15α diol
8(14) cholesten 3β,15α diol
8(14) cholesten 3β,15β diol
8(14) cholesten 3β,15β diol
8(14) cholesten 3βOH 15one
Bsitosterol
Bsitosterol
Bsitosterone
Bsitosterone
cholestan 3oh 15one
cholestan 3oh 15one
Cholestanol
Cholesterol
Cycloartenol
Cycloartenol
Desmosterol
dihydroxy ketocholesterol
Dihydroxyketocholesterol
Lanosterol
Lathosterol
Lathosterone
Lathosterone
TriOH cholesterol
TriOH cholesterol
Zymosterol




Advantages
High coverage: 30+ steroids involved
High throughput
High sensitivity: the detection limit of all substances can reach pmol/mL
Strict quality control: the correlation coefficient R2 of the linear regression equation of all metabolites is greater than 0.99, and the accuracy is between 80% and 120%
Technology Platform:
ESI Liquid Chromatography Mass Spectrometry (ESI- LC/MS)
Sample Type:
Cultured Cells
Cultured or uncultured primary mouse cells or cell lines
Sterols from thioglycolate-elicited intraperitoneal macrophages
Ordering Procedure:

With integrated set of separation, characterization, identification and quantification systems featured with excellent robustness & reproducibility, high and ultra-sensitivity, Creative Proteomics provides reliable, rapid and cost-effective Lipidomics services.