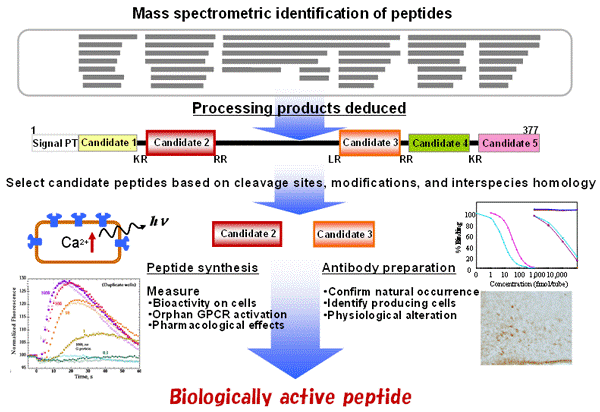 Peptidomics, defined as the systematic, comprehensive, qualitative/quantitative multiplex analysis of endogenous peptides(up to ~20 kDa), in biological samples collected at a chosen time point and location. Peptidomics can complement proteomics and bridge the gap between proteomics and metabolomics. And invaluable information can be obtained from studies of the numerous soluble polypeptides, including signaling molecules (such as cytokines, growth factors & peptide hormones), and other small protein fragments and peptides of undetermined functions, or from disease-specific proteolytic cleavage.
Peptidomics studies can provide a wealth of information about disease states, drug efficacy or toxicity. Currently the sample preparation of the peptidomics research usually need to remove most of hyper-abundant proteins prior to analysis, and it has unrivalled sensitivity in biomarker discovery. Because of their wide range of functions, endogenous peptides have great potential as drugs themselves, drug targets or biomarkers.
It's the advances in mass spectrometry and bioinformatic data & tools from genomics, makes the proteomics and peptidomics analysis possible. The detected peptides can be identified and validated with tandem mass spectrometry, by de novo sequencing, or database searching. Equipped with high resolution TOF and Orbitrap mass spectrometry, the bioanalysts and technicians in Creative Proteomics can offer professional research assistance in your daily researches.
You can find corresponding introduction by clicking the following:
Characterization of Peptide Biomarkers
Comprehensive Peptidomics Service
Our customer service representatives are available 24 hours a day, from Monday to Sunday. Contact Us INQUIRY