Mass spectrometry supports protein and peptide identification which facilitates no more tedious work for time consuming gel preparation. Creative Proteomics has been long focused on optimizing our mass spectrometry technology platform. We have developed a comprehensive protein identification pipeline, which processed with sample preparation, protein separation and purification, followed by mass analysis, and finally to systematic bioinformatics analysis.
The following picture illustrates a typical workflow for protein identification and characterization using MS/MS method. The starting point is a given protein sample that may be a single protein or a complex mixture of different proteins. An enzyme, often trypsin, is used to digest the proteins to peptides. In most cases, one or more stages of chromatography are applied to regulate the flow of peptides into the mass spectrometer. Peptides are then selected for one at a time in the first stage of mass analysis. Each isolated peptide is induced to fragment by collision in the second stage of mass analysis. The fragments are captured to synthesize an MS/MS spectrum.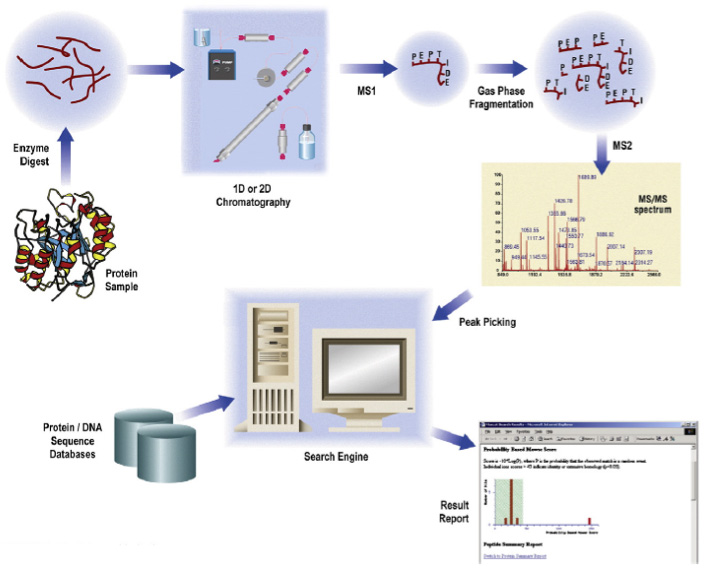 With years' experience in advanced experiment equipment, Creative Proteomics can provide a variety of proteomics services to assist your scientific research, including:
As one of the leading omics analysis service provider, Creative Proteomics provides a series of protein identification services for our customers. Our service guarantees accurate and reliable results, at quick turnaround time! Please feel free to contact us and see how we can help to address your problems.
+ FAQ