Protein Therapeutics Analysis
---
Protein-based therapeutics has made much progress over the past 20 years. For now, biological drugs have been widely used in prevention and treatment of disease. Protein-based therapeutics, including peptides, recombinant proteins, monoclonal antibodies and vaccines, are highly successful in clinical and currently enjoy unprecedented recognition of their potential. Here are some advantages of protein therapeutics:
Highly specific and complex set of functions that cannot be replaced by small-molecule drugs.
Low possibility to interfere with normal biological process and cause adverse effects.
Protein-based therapeutic agents are often well tolerated and less likely to cause immune responses.
No gene therapy riskes.
Shorter duration of clinical development for FDA approval
Far-reaching patent protection.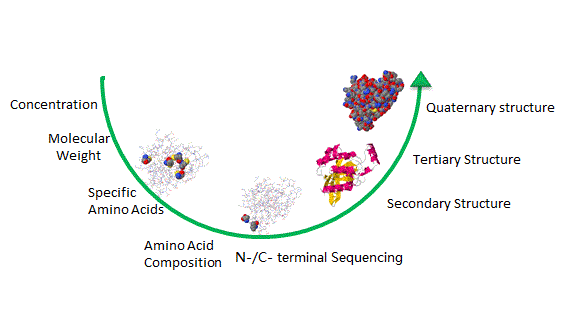 In order to make sure the protein therapeutics are correctly synthesized & modified, and maintain correct senior structures, the quality of biological drugs needs to be accessed. Moreover, biological activity or potency of the biological drug has to be tested before clinical research. Creative Proteomics offers a high-resolution protein analysis platform to perform comprehensive characterization analysis of therapeutic proteins.
With years' experience in advanced experiment equipment, Creative Proteomics can provide a variety of Protein Therapeutics Analysis services to assist your scientific research, including:
We follow the principles of analysis for protein identity, purity, quantity, as well as drug-related safety and efficacy based on the ICH Q6B guidelines of technical requirements for biological products.
Advantages of our protein therapeutics analysis:
Advanced MS analysis platform: Newest version of MS with the high resolution including Q Exactive MS, Orbitrap Fusion MS, and Orbitrap Fusion Lumos MS.
Customer-tailored services: Provide solutions and technical packages for various challenging issues related to protein therapeutics analysis.
Professional and detailed reports: A detailed technical report will be provided at the end of the project including experiment information and all the results.
* For Research Use Only. Not for use in diagnostic procedures.
Our customer service representatives are available 24 hours a day, 7 days a week.
Inquiry