The interaction between RNA and protein is one of the main mechanisms of protein function, which is the key to many cellular functions, such as protein synthesis, mRNA assembly, virus replication, and regulation of cell development. As an important means to detect the interaction between RNA and its binding protein, RNA pull-down is of indispensable significance.
With the advent of the era of genes, RNA-related research has become an important part of biology. It has been widely studied in the fields of tumors, chronic diseases such as diabetes, and enteritis, but the related mechanisms are still poorly understood. The interaction of various newly discovered IncRNAs, circRNAs, and proteins needs further elucidation. In recent years, RNA pull-down has developed into the major tool to study the interaction of IncRNAs and circRNAs with proteins.
About RNA Pull Down
Initially, the RNA molecule is labeled (such as biotin probe labeling) and then incubated with cell lysate to form the RNA-protein complex. This complex can be bound to streptavidin-labeled magnetic beads, thereby separating itself from other components in the incubation solution. After elution of the complex, proteins can be detected via the western blot for proteins of known identifications or mass spectrometry for proteins of unknown identification.
Our RNA Pull-down Service
Creative Proteomics offers RNA pull-down service using specific secondary antibodies to avoid the interference of heavy chains of antibodies. Creative Proteomics is equipped with the world's most advanced mass spectrometer to enhance the detection results in terms of efficiency and reliability.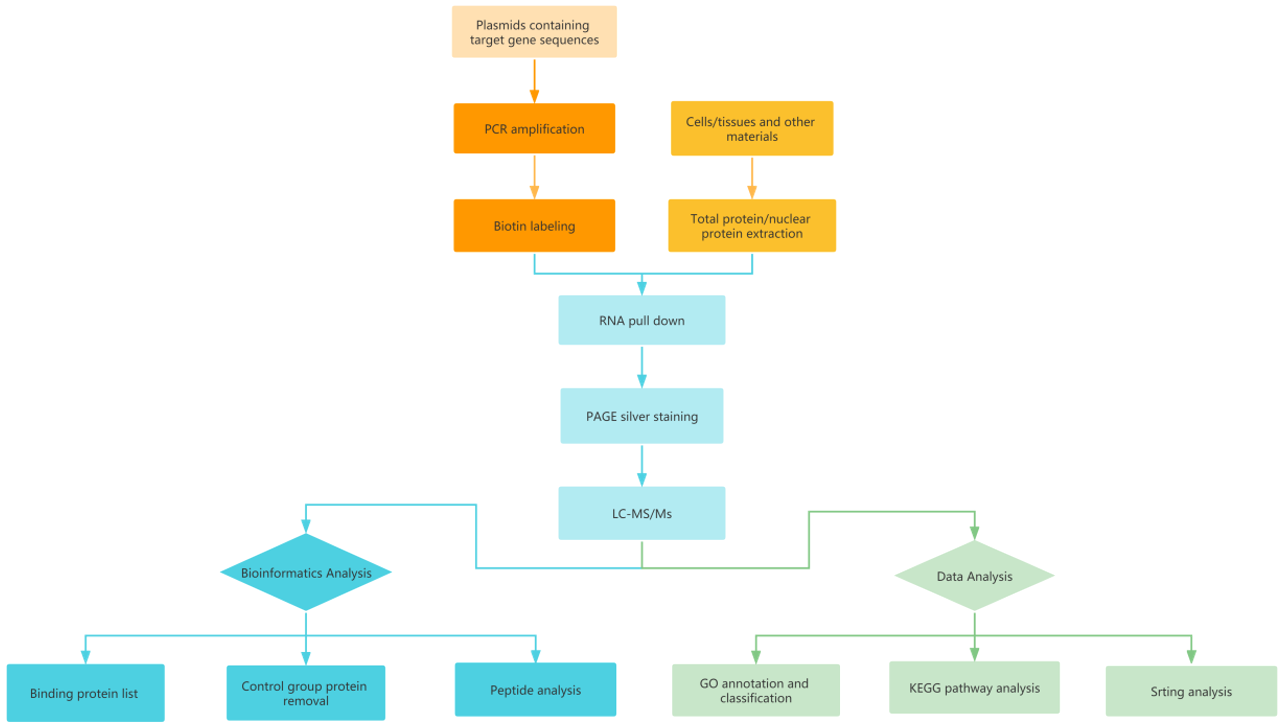 Advantages
Low-abundance enrichment: enrich the detection of low-abundance target protein-RNA complexes
Mature proteomics platform: provides western blot and mass spectrometry identification of RNA pull-down complexes
Professional bioinformatics analysis
Sample Requirements
Sample Type: cell or tissue
Sample size: a) Cells > 5×108  b) Tissue > 500 mg
Sample Shipping: Shipping on dry ice
Sample preservation: cell samples or fresh tissue stored in liquid nitrogen and at -80°C
Highlights
High precision
Provide various complete controls to ensure rigorous results
Provide prediction and identification of important functional regions of proteins
Delivery
Sequencing report
SDS-PAGE silver staining of RNA pull-down protein
Mass spectrometry identification report