Identification And Quantification Of Plant Metabolomics
Plant metabolomics is more and more used for understanding physiological processes like the cellular responses to various stimuli. For example, in response to sulfur deficiency, the metabolites will be readjusted. It is found that there is a strict relationship between sulfur assimilation, nitrogen, lipid, and purine metabolism and enhanced photorespiration. What's more, metabolomics has been used for studying cold stress response. Metabolic engineering of biochemical pathways for pharmaceuticals production, gene function discovery are other applications of plant metabolomics.
Besides contributing to the color, taste, aroma, and scent of fruits and flowers, plant metabolites are associated with many resistance and stress responses in plants. As the end products of cellular regulatory processes, the levels of metabolites are the final response of biological systems to genetic alteration or environmental stimuli. These metabolites are strictly regulated by intracellular physiological fluctuations. Therefore, it is necessary to simultaneously identify and quantify metabolites in plants to understand the dynamics of the metabolites, study fluxes in metabolic pathways and decipher the role of each metabolite in response to various stimuli.
Because of their highly dynamic in time and space and complexity of structures, it is a big challenge to separate and characterize up to 200,000 metabolites in plant kingdom of high diversity in biological sample matrices. The studies of the plant metabolomics is composed of analysis of a large number of chemical species with various physical properties, ranges from ionic inorganic compounds to biochemically derived hydrophilic compounds, organic and amino acids, and a series of hydrophobic lipid-related compounds. Although technology is moving forward, we are still lack of knowledge of the plant metabolome. Because of the immense diversity among plants, metabolomics has become a crucial analytical tool in the plant community. It is difficult for a single analytical technique to identify and quantify all the metabolites found in plants. Plant metabolomics has benefited from a large number of previous methodological approaches and bioanalytical knowledge for the characterization of many chemically diverse classes of metabolites. While generally applicable methods for metabolite extraction, fractionation and detection is implemented, it is still challenging to identify and quantify the metabolites.
Detection Methods Of Plant Metabolomics
The classical instrumentation useful for the identification and quantification of plant metabolomics includes MS, GC, HPLC, or HPLC-MS, GC-MS. The coupling of chromatographic methods such as GC or HPLC with MS can greatly increase coverage of metabolites, which will enhance the biological context by increasing the number of identified metabolites. As one of the widely used analytical techniques in plant metabolomics, GC-MS is utilized to qualitatively and quantitatively analyze a wide range of volatile and derivatized nonvolatile metabolites with high thermal stability. Compared to LC-MS and LC-NMR, GC-MS is of analytical reproducibility and lower costs. LC-MS has been increasingly used in these years for the untargeted large-scale analysis of plant metabolomics, the characterization of metabolites in response to stress and the identification of flavonoid glycoconjugates in roots. LC-MS is more labile compounds and for compounds hard to derivatize. Besides, because of its advantage of high resolution and high reliability, CE-MS is also used for profiling of amino acid in plant cell cultures, for profiling of metabolites in bacterial-infected orange leaves and for profiling of metabolites in Illicium anisatum. Other techniques used for plant metabolomics include FT-IR, NIR, and NMR.
What Is Plant Untargeted Metabolomics
Plant untargeted metabolomics analysis is the most classical and widely used approach in plant metabolomics. It focuses on studying small molecule metabolites in plants as research subjects, investigating the metabolic products of different species, genetic types, or ecological types of plants at different growth stages or before and after certain stimuli. Based on liquid chromatography-mass spectrometry (LC-MS), this unbiased method aims to detect as many small molecule metabolites as possible within plant samples, comparing and analyzing experimental and control groups. Differential metabolites are selected through statistical analysis, followed by metabolic pathway analysis to explore the relative relationship between metabolites and physiological or pathological changes.
Workflow of Plant Untargeted Metabolomics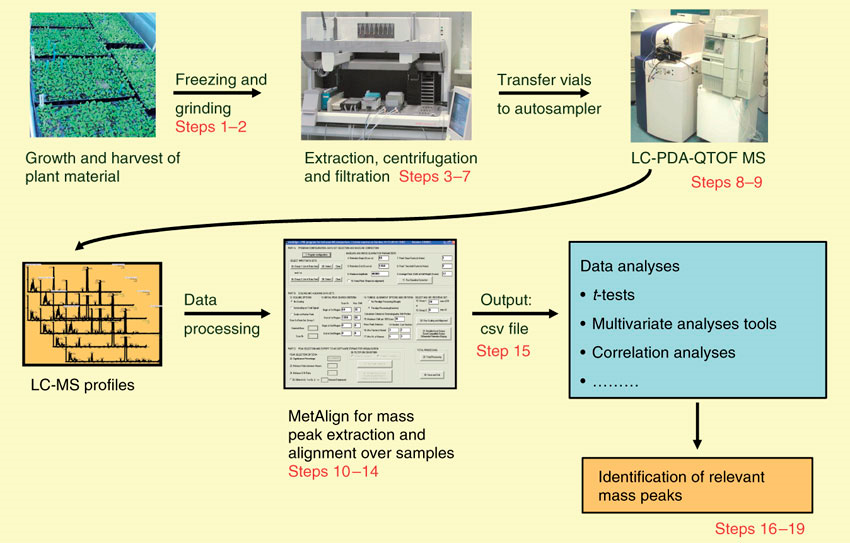 Our Plant Untargeted Metabolomics Service
With the integration of separation, characterization, identification, and quantification systems, which exhibit robustness, reproducibility, and high sensitivity, Creative Proteomics offers reliable, rapid, and cost-effective plant untargeted metabolomics using LC-MS. Simultaneously, both primary and secondary metabolites in plant samples are qualitatively and quantitatively analyzed, and plant metabolomic information is extensively explored using statistical and bioinformatics methods.
| Category | Quantity | Representative Substances |
| --- | --- | --- |
| Amino Acids | 100+ | Serine, Threonine, Tyrosine, Valine, Glutamine, Cysteine, etc. |
| Vitamins | 30+ | Vitamin A, Vitamin B12, Vitamin C, Vitamin D2, Vitamin K1, etc. |
| Organic Acids | 200+ | Salicylic Acid, Malic Acid, Gallic Acid, Citric Acid, Tartaric Acid, etc. |
| Carbohydrates | 50+ | Lactose, Galactose, Sorbitol, Xylitol, Mannitol, Arabinose, etc. |
| Lipids | 100+ | Linoleic Acid, Palmitic Acid, Linolenic Acid, Myristic Acid, Arachidonic Acid, etc. |
| Nucleotides | 100+ | 1-Methyladenosine, 5-Methylcytidine, Adenine, Cytosine, Guanine, etc. |
| Phenols | 80+ | Danthron, Resveratrol, Emodin, Curcumin, Rhodiola Rosea Glycoside, etc. |
| Phenolic Acids | 60+ | Caffeic Acid, Catechin, Benzoyl Shanzhiside Methyl Ester, Danshensu, etc. |
| Flavonoids | 450+ | Baicalin, Isoflavones, Myricetin, Quercetin, Proanthocyanidin B1, etc. |
| Alkaloids | 370+ | Berberine, Galanthamine, Reserpine, Betaine, Ricinine, Barbaloin, etc. |
| Terpenes | 350+ | Astragaloside III, Ginsenoside, Betulin, Umbelliferone, Celosin, etc. |
| Quinones | 30+ | Danhong Danshensu I, Diosmetin, Chrysophanol, Danshensu IIA, Quercetin, etc. |
| Steroids | 60+ | Tomatidine, Dioscin, Digitalis Glycoside, Alliin, Levoalysine, etc. |
| Phenethylamines | 150+ | Verbascoside, Scopolamine, Caffeoylquinic Acid, 1-Caffeoylquinic Acid, etc. |
| Others | 400+ | Ganoderma Lucidum Triterpenoids, Podophyllotoxin, Rutin B, Acetylbenzene, Patchoulitones, etc. |
| Total | 2500+ | |
Data Analysis Contents
Basic Data Analysis
Advanced Data Analysis
Data preprocessing
PCA analysis
PLS-DA analysis
OPLS-DA analysis
Differential compound screening
Differential compound identification
Metabolic pathway analysis
Metabolic network analysis
Multi-omics data correlation analysis (for studies with multiple omics data)