Protein Purity and Homogeneity Characterization
---
Protein purity and homogeneity are two very important characteristics for further protein studies and biopharmaceutical applications. Purity of protein sample limits the application of protein products, thus protein purity analysis, and detection of contamination and residual content are widely performed in the industry. Common contaminates of protein product are resulted from culturing medium, or incorporated from extraction and purification procedures. Moreover, proteins per se may exist in multiple forms, for example proteins may undergo post-translational modification or protein splicing, which results in addition or truncation to the protein structures, rendering protein heterogeneity. Creative proteomics has developed a well-established analytical platform, that can analyze protein purity and homogeneity. Our full-scale service package contains various analytical items to meet your requirements.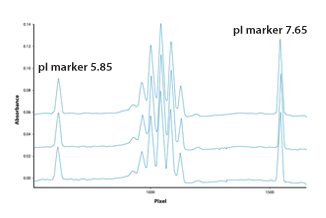 List of protein purity and homogeneity characterization service:
| Service package | Analytical techniques |
| --- | --- |
| Contaminates | MS |
| Protein variants, isomers, mismatched S-S link | HPLC, Capillary electrophoresis, MS, CD |
| Truncated Proteins, degraded proteins | SDS-PAGE |
| Protein modifications | MS |
| Protein aggregates | SEC, Capillary electrophoresis |
| Protein precursors | MS |
Technology platform:
Size exclusion chromatography (SEC)
Electrospray Ionization Mass Spectrometry (ESI-MS)
Ordering Procedure:

Our customer service representatives are available 24 hours a day, from Monday to Sunday.
Inquiry