In polymer chemistry, polyols are a type of compounds with multiple hydroxyl functional groups available for organic reactions. A compound with two hydroxyl groups is a diol, one with three is a triol, one with four is a tetrol, and so on.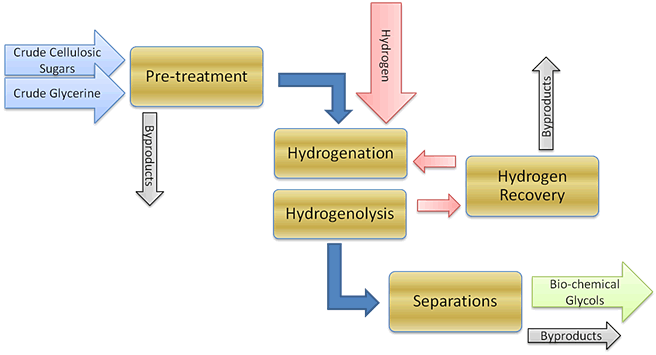 Figure 1 Overview of Biomass Sugar to Polyols Process
Monomeric polyols, such as sucrose, glycerin and ethylene glycol, often serve as the starting point for polymeric polyols. These materials are often referred to as the "initiators" and reacted with ethylene oxide or propylene oxide to produce polymeric polyols. Nonetheless, they should not be confused with free radical "initiators" that are used to promote other polymerization reactions. The functional group used as the starting point for a polymeric polyol need not be a hydroxyl group; there are a lot of important polyols that are built up from amines. A primary amino group generally functions as the starting point for two polymeric chains, especially in the case of polyether polyols.
Polymeric polyols are usually used to produce other polymers. They can react with isocyanates to form polyurethanes that will be used to make adhesives, mattresses, foam insulation for appliances, automotive seats, fibers, and elastomeric shoe soles.
Polymeric polyols are generally polyethers or polyesters. Polyether polyols are formed by reacting epoxides like propylene oxide or ethylene oxide with the multifunctional initiator in the presence of a catalyst, usually a strong base such as a double metal cyanide catalyst or potassium hydroxide. The most common polyether diols include polyethylene glycol, polypropylene glycol, and poly (tetramethylene ether) glycol. For example, fairly low molecular weight triols are based on glycerin (a triol) being reacted with ethylene oxide, propylene oxide or a combination of the two. As a matter of fact, the chains would not have equal length in any one molecule and there would be a distribution of molecular weight polyols within the material. Polyether polyols take up about 90% of the polymeric polyols used industrially; the balance is polyester polyols. The polyester is another class of polymeric polyols. Polyesters are often produced by condensation or polymerization of diols and dicarboxylic acids. In contrast, the hydroxyl group and the carboxylic acid (or their derivatives) may be within the same molecule, as in the case of caprolactone.
With experienced scientists and advanced equipment at Creative Proteomics, we have developed a reliable and reproducible method using highly sensitive LC-MS/MS method for the rapid identification and quantification of diverse polyols in different sample types, which can satisfy the needs of academic and industrial study in your lab.
Platform
Summary
Identification and quantification of diverse polyols by LC-MS/MS.
Sample Requirement
Normal Volume: 100ul plasma; 50mg tissue; 2e7 cells
Minimal Volume: 50uL plasma; 30mg tissue; 5e6 cells
Report
A full report including all raw data, MS/MS instrument parameters and step-by-step calculations will be provided (Excel and PDF formats).
Analytes are reported as μM or μg/mg (tissue), and CV's are generally<10%.
Polyols
1,4-butanediol
Neopentyl glycol (NPG)
Polyethylene glycol (EG)
Polypropylene glycol (PG)
Trimethylolpropane (TMP)


How to place an order:

*If your organization requires signing of a confidentiality agreement, please contact us by email.
With integrated set of separation, characterization, identification and quantification systems featured with excellent robustness & reproducibility, high and ultra-sensitivity, Creative Proteomics provides reliable, rapid and cost-effective polyols targeted metabolomics services.