The development of cardiovascular diseases is closely related to the alteration of metabolites in an organism. Metabolomics studies the comprehensive biochemical information of metabolism in organisms, through the simultaneous qualitative and quantitative analysis of almost all metabolites in a certain physiological state or under specific conditions, in order to find and identify differential metabolites. Metabolomic analysis can identify the key factors contributing to cardiovascular diseases and provide some basis for the diagnosis and treatment of cardiovascular diseases.
Case 1 Untargeted Metabolomics Reveals Potential Therapeutic Targets for Cardiovascular Disease (1)
Patients with type 2 diabetes mellitus (T2DM) often have increased CVD, triggering a range of vascular-related conditions (MACE). Studying T2DM holds the promise of finding a new way to treat CVD.
To investigate the relationship between diabetes and MACE, the authors divided subjects into five groups according to their disease status and used untargeted metabolomics to determine changes in their serum metabolites. In addition to common TMAO substances, substances with m/z=265.1188 were highly noteworthy in patients with diabetes and MACE. The substance was then identified as PAGln by comparing databases and other methods. Kaplan-Meier analysis showed that in diabetic patients, subjects with higher levels of PAGln were at greater risk of developing MACE.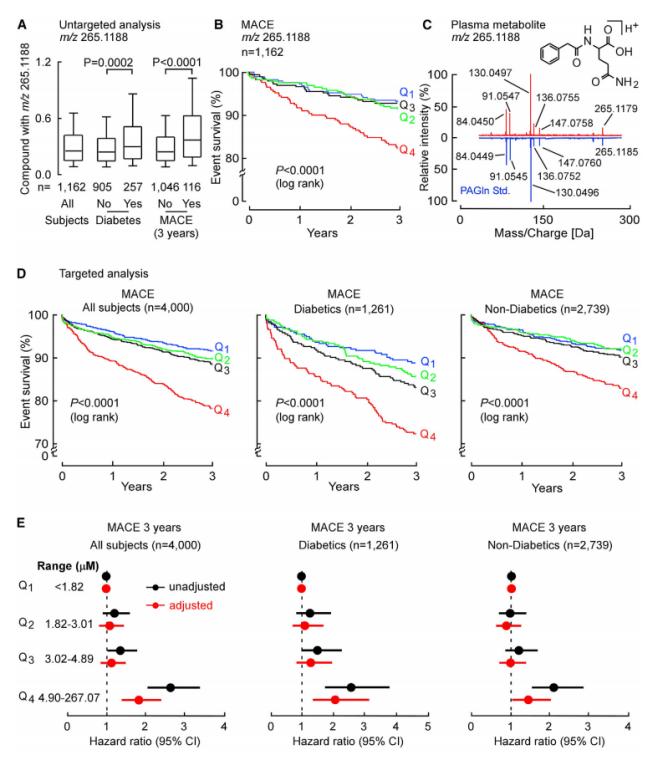 Untargeted Metabolomics Studies Discover that a Metabolite with m/z of 265.1188 Is Associated with Cardiovascular Disease Risk, Subsequently Identified as Phenylacetylglutamine
The authors performed untargeted metabolomic analysis using plasma from T2DM patients, combined with mechanistic studies, revealing an increase in PAGln synthesis via microbial pathways in T2DM patients, suggesting an association between PAGln and cardiovascular disease.
Case 2 Plasma Metabolome Reveals Association of Mediterranean Diet with Cardiovascular Disease Risk (2)
The Mediterranean diet, which includes plant foods (fruits, vegetables, legumes, whole grains, seeds and nuts), virgin olive oil and moderate amounts of dairy products (yogurt and cheese) and eggs, is an effective and economical strategy to prevent cardiovascular disease.
To analyze the plasma metabolite expression profile in humans after Mediterranean diet intervention, researchers analyzed 302 plasma metabolites. In the PREDIMED cohort study, 97 metabolites were identified that were significantly associated with Mediterranean Diet Adherence Score (MEDAS). These metabolites mainly included lipids (n=82, 37% of all lipids measured), amino acids (n=9), and other types of metabolites (n=9).
The researchers further applied elasticity network regression methods to the PREDIMED cohort baseline data to analyze metabolic profiles associated with Mediterranean diet adherence. A combination containing 67 metabolites from the 302 metabolites was screened for significant association with MEDAS. The correlation was validated in both the internal test set (PREDIMED 1-year data) and the external test set (NHSI, NHSII and HPFS).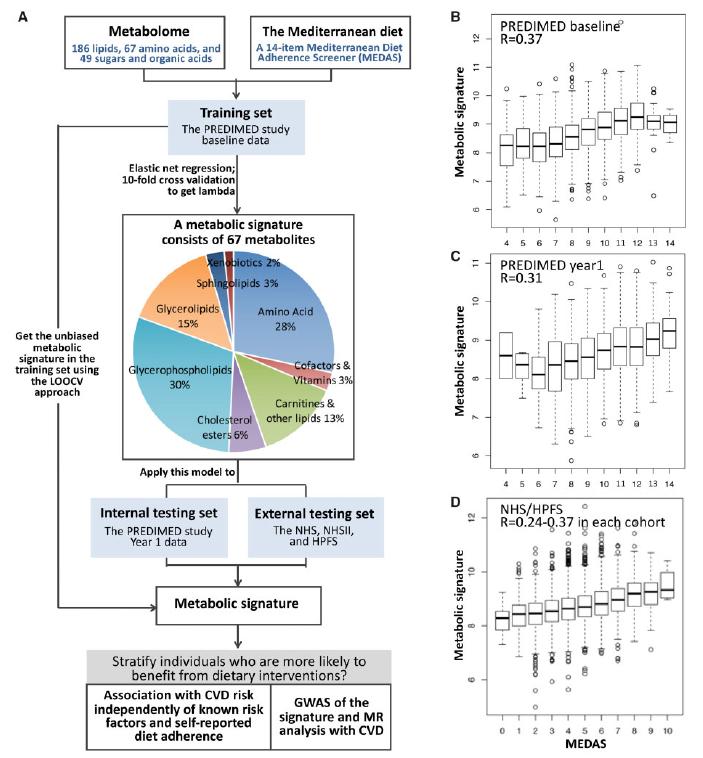 The metabolic signature for adherence to the Mediterranean diet: flow chart for analytic approach and validation.
The metabolic profile consisting of 67 metabolites correlated most consistently with fish/seafood intake across the data sets. Higher levels of fish/seafood intake were significantly associated with higher levels of highly unsaturated lipid metabolites including eicosapentaenoic acid (EPA), docosahexaenoic acid (DHA), and docosapentaenoic acid (DPA).
Metabolite association analysis showed that metabolites associated with higher MEDAS (e.g., high unsaturated lipids) were more likely to be associated with lower cardiovascular risk. Conversely, metabolites associated with lower MEDAS (e.g., glutamate) were more likely to be associated with higher CVD risk.
Resources
Nemet, I., Saha, P. P., et al. (2020). A cardiovascular disease-linked gut microbial metabolite acts via adrenergic receptors. Cell, 180(5), 862-877.
Li, J., Guasch-Ferré, M., et al. (2020). The Mediterranean diet, plasma metabolome, and cardiovascular disease risk. European heart journal, 41(28), 2645-2656.