Proteomics, the large-scale study of proteins, is an important tool in bronchodilatation research. Bronchodilators are medications that relax the smooth muscles of the airways, thereby making it easier to breathe. The effectiveness of bronchodilators can vary between individuals, and proteomic analysis can help identify the molecular mechanisms that underlie these differences. By studying the protein profiles of bronchial tissues or cells from patients with different responses to bronchodilators, researchers can identify potential targets for new drugs or personalized treatments. Proteomics can also be used to monitor changes in protein expression in response to bronchodilator therapy, which can provide insights into the mechanisms of action of these drugs. Overall, proteomics has great potential to advance our understanding of bronchodilatation and improve the treatment of respiratory diseases.
Case(1):
Bronchiectasis is primarily a neutrophilic inflammatory disease, and the formation of neutrophil extracellular traps (NETs) is a method of host defense that has been implicated in a variety of inflammatory diseases. There are no established treatments for neutrophilic inflammation because little is known about the underlying mechanisms that lead to severe disease.
A multinational research team led by Professor James D Chalmers at the University of Dundee, UK, used proteomics to identify key markers of severity and treatment response in bronchiectasis.
The research includes:
1. Identification of proteomic biomarkers associated with disease severity in bronchiectasis patients (n=40) in Dundee, UK using liquid chromatography-mass spectrometry. Seven hundred and ninety-nine proteins were identified, of which 96 were differentially expressed proteins, most of which were associated with neutrophil inflammation, including RETN (ADSF), S100-A9 (MRP-14) , S100-A8 (CFAG), ELANE (HLE), AZU1 (azurocidin), MPO ( myeloperoxidase), LCN2 (NGAL).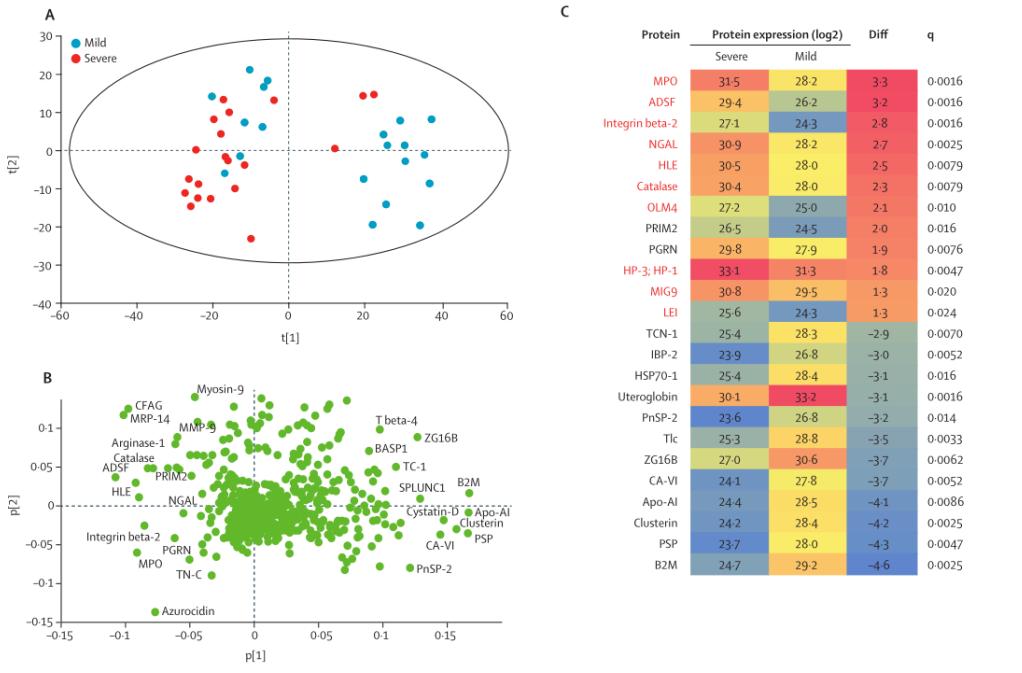 2. Further validation in a population-based cohort of 175 patients from the UK TAYBRIDGE cohort and 275 patients from Italy, Spain and USA. Identification of biomarkers NETs associated with disease severity in bronchiectasis. NETs were positively associated with disease severity, significantly higher in patients with a history of severe exacerbations, and negatively associated with patients' Quality of Life Score QoL-B RSS.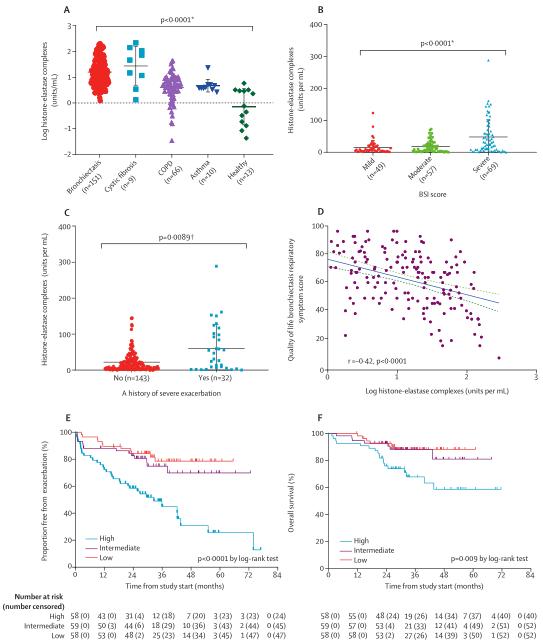 3. To investigate whether pathogenic bacteria affect NET concentrations in patients with severe bronchiectasis. The proteome of sputum samples from patients with exacerbated bronchiectasis after 14 days of systemic antibiotic treatment was studied. Analysis showed that antibiotic treatment was associated with altered expression of 39 proteins in sputum (23 down-regulated and 16 up-regulated). Pathway analysis revealed that the up- and down-regulated proteins shared the same pathways of neutrophil degranulation and overexpression of the innate immune system. Of the 11 down-regulated proteins associated with neutrophil degranulation, 10 are known to be network-associated proteins.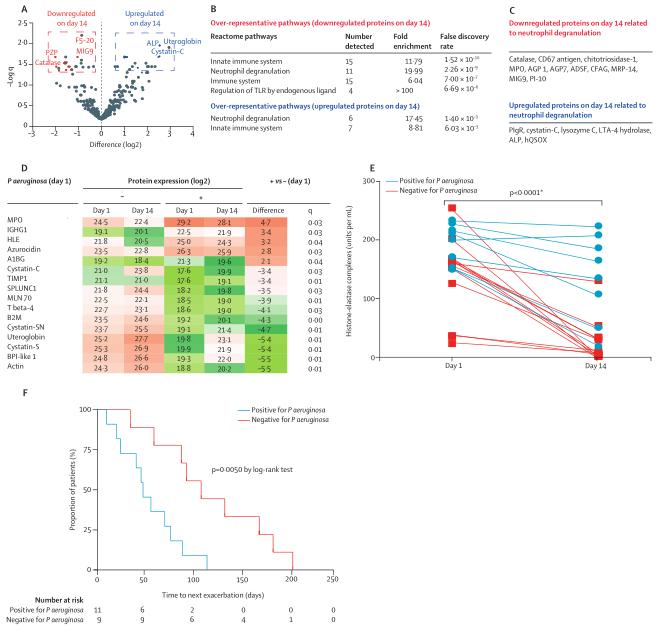 4. To assess the possibility and reasons why macrolide therapy reduces NET concentrations in patients with bronchiectasis. The analysis revealed that long-term macrolide treatment inhibits NET formation, mainly in patients with non-eosinophilic disease.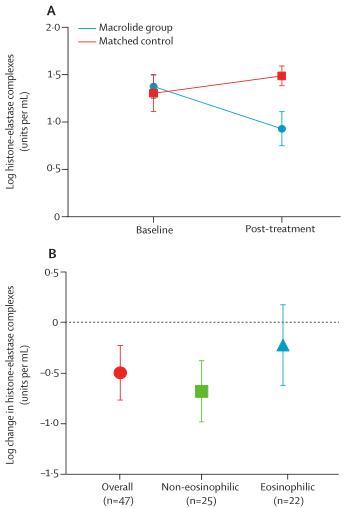 Reference
Keir, Holly R., et al. "Neutrophil extracellular traps, disease severity, and antibiotic response in bronchiectasis: an international, observational, multicohort study." The lancet Respiratory medicine 9.8 (2021): 873-884.