iTRAQ (isobaric tags for relative and absolute quantitation) proteomics is a powerful technique that allows for the simultaneous identification and quantification of thousands of proteins. It has proven to be particularly useful in the study of complex diseases such as osteoarthritis and brain-related disorders. In osteoarthritis research, iTRAQ proteomics has been used to identify potential biomarkers for early diagnosis and disease progression monitoring. Similarly, in brain science research, iTRAQ proteomics has been used to investigate the molecular mechanisms underlying neurodegenerative diseases such as Alzheimer's and Parkinson's. By analyzing the protein content of samples from patients with these conditions, researchers can gain new insights into the disease pathology and identify potential therapeutic targets. Overall, iTRAQ proteomics has the potential to significantly advance our understanding of complex diseases and improve patient outcomes.
Case 1 Finding a weapon to destroy osteoarthritis at the molecular level (1)
Osteoarthritis (OA) is an age-related or post-traumatic degenerative joint disease characterized by loss of articular cartilage, hypertrophic differentiation of chondrocytes, subchondral bone remodeling, synovial inflammation and bone redundancy formation.
In this study, using iTRAQ proteomics technology, we analyzed cartilage tissue samples from young and aged mice and identified a total of 5015 proteins, demonstrating that Fyn expression was significantly upregulated in human OA cartilage and in cartilage from aged mice and cartilage with post-traumatic OA. Subsequent combined immunoprecipitation and proteomics analyses demonstrated that Fyn accumulates in articular chondrocytes and interacts directly with and phosphorylates β-catenin, thereby stabilizing β-catenin and promoting its nuclear translocation. the Fyn inhibitors AZd0530 and pp1, by blocking the β-catenin pathway and reducing the levels of extracellular matrix catabolic enzymes in articular cartilage significantly attenuated OA progression.
The study first identified the protein of interest through proteomics. Then a series of validations of the possible functions of this protein were performed. Finally, the important role of Fyn, a member of the SFK family, in cartilage degeneration and OA development was demonstrated, and provides a potential novel therapeutic target for OA. In addition, this study demonstrates the advantages of histology for large-scale data screening, providing powerful support for precision medicine research.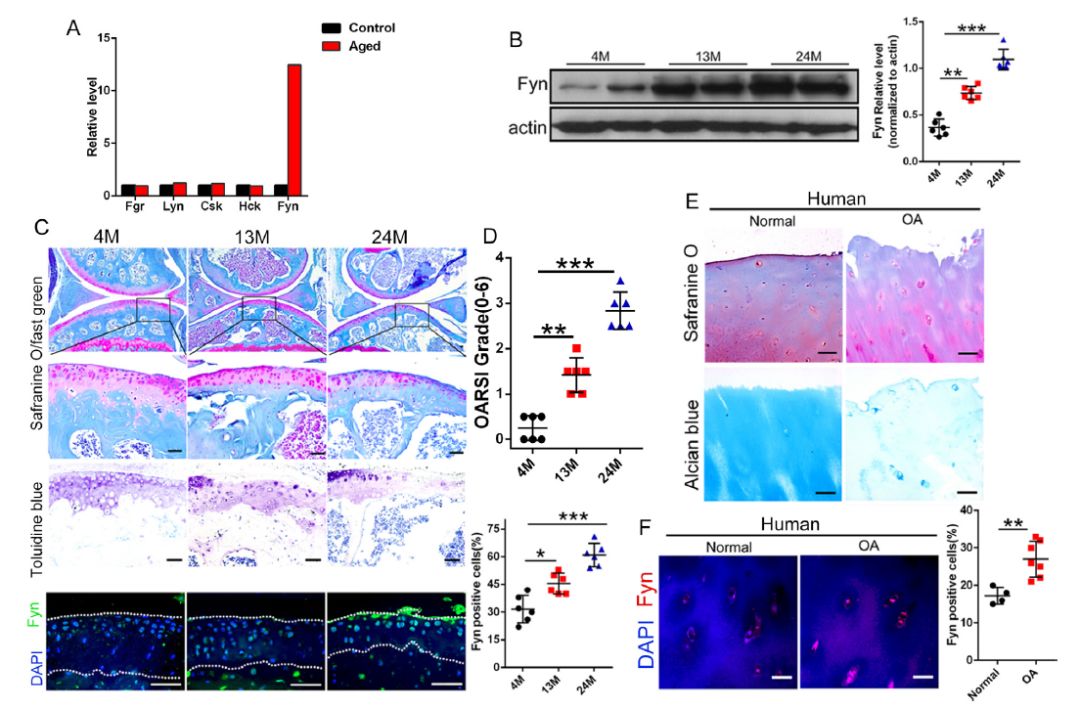 Fyn accumulates in articular cartilage of aged mice and patients with osteoarthritis (OA).
Case 2 Study the regulation of target temperature management on traumatic brain injury and related mechanisms (2)
The aim of this study was to investigate the regulation of traumatic brain injury (TBI) by target temperature management (TTM) and related mechanisms by quantitative proteomics techniques. Moderate stretch injury was performed using cell damage controllers (for SH-SY5Y and HT-2CIC)2 cells, followed by incubation at TTM (subfreezing, 32°C) or normothermia (37°C). Real-time morphological changes, cell cycle phase distribution, cell death and cell activity were assessed. Controlled cortical impingement apparatus (CCI) produced moderate TBI and the effects of TTM on neurological injury, neurodegeneration, cerebrovascular histopathology, and behavioral outcomes were measured in vivo. Results showed that TTM treatment prevented TBI-induced neuronal necrosis in the brain, reduced neuronal death in vitro and in vivo, reduced cortical damage volume and neuronal loss, attenuated cerebrovascular histopathological damage and brain edema and improved behavioral outcomes. Proteins associated with TTM-regulated TBI were identified by iTRAQ technology. Changes in four candidate molecules (fibrinogen [PLG], antithrombin III [AT III], fibrinogen gamma chain [FGG], and transthyretin [TTR]) were validated in TBI rat brain tissue and TBI human brain medulla. This study investigates for the first time the neuroprotective effects of TTM in the TBI human proteome and in animal models of TBI, providing information on the TBI brain proteome and laying the foundation for further evaluation of candidate molecules associated with TTM.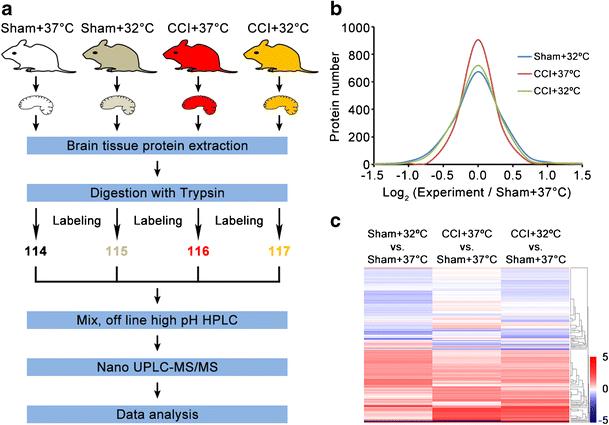 Quantitative proteomics comparison of the cortical contusion impact (CCI) rats treated with targeted temperature management using the iTRAQ approach.
Reference
Li, Kai, et al. "Tyrosine kinase Fyn promotes osteoarthritis by activating the β-catenin pathway." Annals of the rheumatic diseases 77.6 (2018): 935-943.
Cheng, Shi-Xiang, et al. "iTRAQ-based quantitative proteomics reveals the new evidence base for traumatic brain injury treated with targeted temperature management." Neurotherapeutics 15 (2018): 216-232.