High temperature is a stressor that is often encountered during plant growth. When temperatures rise to threshold levels and persist for a period of time, it can lead to irreversible damage to plant growth and development. Short or prolonged high temperature stress can cause a series of physiological and biochemical changes, including photosynthesis, water metabolism, levels of endogenous hormones, and levels of primary and secondary metabolites, which can affect the growth and development process of plants and even lead to severe decreases in crop yields. The development of lipidomics technology provides a certain scientific basis for exploring the physiological functions and mechanisms of lipids in the process of plant resistance to high temperature stress.
Case 1 Changes of wheat pollen liposomes under diurnal high temperature stress (1)
High temperatures are a major abiotic stress in wheat producing regions of the world. From 1961 to 2002, wheat yields decreased by 3.2-8.4% for every 1 degree Celsius increase in global minimum and maximum temperatures. The main reason for reduced wheat grain set due to high temperature stress is poor pollen performance. The changes in lipid metabolism and the enzymes involved in its pathways show important roles in pollen under high temperature stress conditions. However, high temperature-induced changes in pollen liposomes and their role in the high temperature adaptation of wheat plants have not been studied yet.
In this paper, the authors quantified a total of 89 lipid analytes using an ESI-MS / MS method to analyze pollen lipid composition and lipid changes under high temperature stress. It was found that high daytime and/or nighttime temperatures resulted in significant changes in the composition of diacyl lipid species of extracellular classes PC, PE, PI, PA and PS. These phospholipids are synthesized by the endoplasmic reticulum. High temperatures resulted in a decrease in polyunsaturated lipid content and an increase in low unsaturated lipid content. PC and PE in pollen were negatively correlated. Correlation analysis revealed co-occurring lipids under high temperature stress and confirmed the high temperature responsiveness of extracellular phospholipids.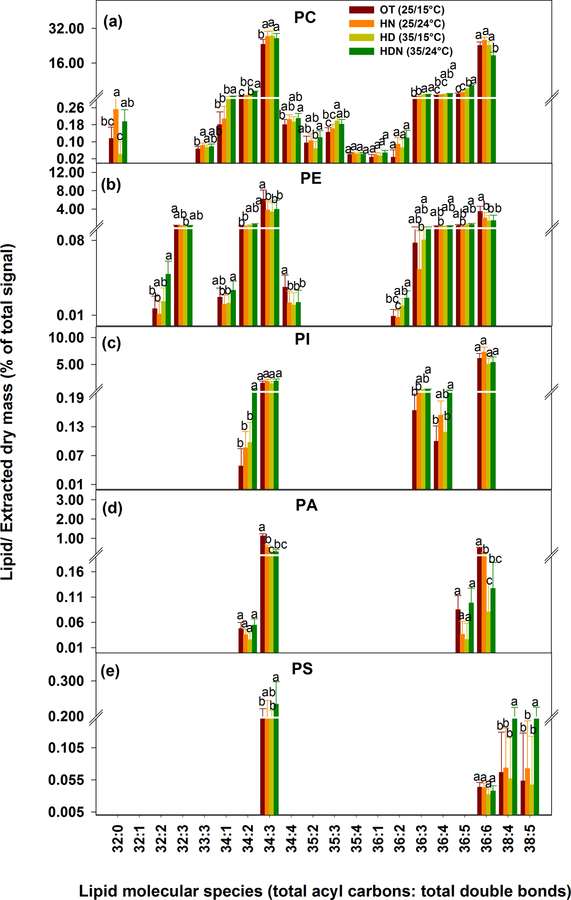 Effects of temperature on extraplastidic phospholipid molecular species of wheat genotype
Case 2 Lipidomic study of glycerolipids in plant leaves under high temperature stress (2)
When plants are subjected to high temperature stress, the structure of the cystoid is altered and reorganized. The lipid composition of the membrane is also changed, generating lipid-related signaling molecules that save lipids from oxidation and subsequently repair damaged membrane structures. The introduction of lipidomics into the study of lipid metabolism in the model plant-Arabidopsis thaliana, the clarification of lipid classification and the specific lipids with partial positional heterogeneity will be more beneficial to the study of how plants respond to high temperature stress.
Fatty acids in plants are mainly synthesized in chloroplasts. The main site of synthesis of membrane phospholipids is the endoplasmic reticulum. During high temperature stress, fatty acids require acetyl coenzyme A for simultaneous esterification of fatty acid transport. In this study, plant lipidomic analysis was performed to provide an overview of the processes involving phospholipid-related genes, proteins, and the major sixteen- and eighteen-carbon saturated or unsaturated fatty acids. A comparison is made between plants on the selection and transformation of prokaryotic and eukaryotic pathways in the synthesis of glycerolipids. Changes in the accumulation of monogalactose diacylglycerol (MGDG), digalactose diacylglycerol (DGDG), phospholipid content and composition in leaves, including phosphatidic acid, lecithin, ceruloplasmin, glycerophospholipids, etc., as a result of prolonged or short-lived environmental stress are analyzed. This study shows that among various abiotic stresses, plant leaves under heat stress specifically increase the levels of galactolipids containing linoleate (18:2) in chloroplasts; phospholipids containing palmitate (16:0), stearate (18:0), and oleate (18:1) in the endoplasmic reticulum and plasma membrane; and triacylglycerol containing α-linolenate (18:3) and hexadecatrienoic acid (16:3) as lipid droplets in the leaves of Arabidopsis thaliana.
Leaf glycerolipid compositional changes under heat stress and other abiotic stresses.
Resources
Narayanan, S., Prasad, P. V., & Welti, R. (2018). Alterations in wheat pollen lipidome during high day and night temperature stress. Plant, cell & environment, 41(8), 1749-1761.
Higashi, Y., & Saito, K. (2019). Lipidomic studies of membrane glycerolipids in plant leaves under heat stress. Progress in lipid research, 75, 100990.