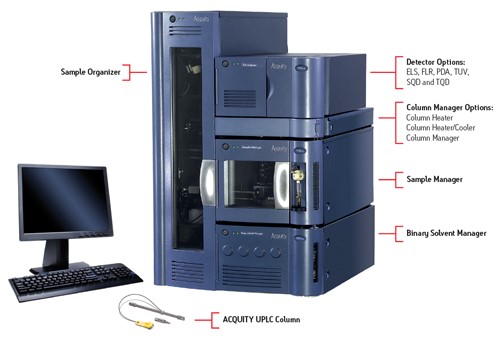 Ultra Performance Liquid Chromatography (UPLC) is the newest technology in liquid chromatography based analysis. UPLC is the upgrade high performance liquid chromatography with high pressures, outstanding in both peak resolution and sensitivity. As well as higher sample throughput obtain more available sample information and the decrease separation time consumption. UPLC can provide us with impactful results within their organization. Ultra Performance Liquid Chromatography (UPLC) Based Analysis Services at Creative Proteomics offers you a state-of-the-art liquid separations platform that includes standard UPLC with frequently used separation mechanisms.
Highlight:
ACQUITY Ultra Performance LCTM UPLC system: Creative Proteomics analysis platform introduce UPLC system which retains the practicality and principles of HPLC while increasing the overall interlaced attributes of speed, sensitivity, and resolution. UPLC system presents the possibility to extend and expand the utility of chromatography, such as food safety analysis, clinical research, metabolomics studies, and routine quality screens.
Custom Sercices: Development and/or validation of analytical methods specific to your sample matrix, active ingredient and desired instrumentation.
We are Capable of:
Polymer additives analysis and quantitation
Surfactant analysis
Impurities testing
Pharmaceutical stability indicating analyses
Peptide and glycopetide mapping with Mass Spectrometry detection (UPLC-MS/MS)
Creative Proteomics's analytical scientists are highly experienced and knowledgeable in the application of UPLC analyses to a wide variety of industries ranging from Food & Beverage to Pharmaceuticals and much more. Experience, fast turnaround, clear concise written reports, and custom service are provided to help customers resolve your analytical and technical challenges.