It is now well established that deficiencies of the major dietary sources of methyl donors, methionine and choline, lead to the formation of liver cancer in rodents. Although not so widely studied as the liver tumors, extrahepatic tumor formation has also been increased in carcinogen-treated animals fed diets low in the methyl donors methionine, choline, and folic acid. Several plausible mechanisms have been proposed to explain the enhancing effects of dietary methyl deprivation on carcinogenesis. The most widely investigated, however, has been the idea that dietary methyl insufficiency results in abnormal DNA methylation subsequent to the formation of a physiological methyl insufficiency in vivo. A critical metabolite in the investigation of this hypothesis is SAM, the body's chief physiological methyl donor.
S-adenosylmethionine (SAM) is a methyl donor involved in the transfer of a methyl group to DNA, proteins, phospholipids, RNA, and neurotransmitters. Reactions that break down and regenerate SAM have been named the SAM cycle. SAM-dependent methylases use SAM as a substrate to yield s-adenosylhomocysteine (SAH), which is further broken down to homocysteine and adenosine by s-adenosylhomocysteine hydrolase. The homocysteine can be regenerated to methionine and finally SAM by methionine synthases.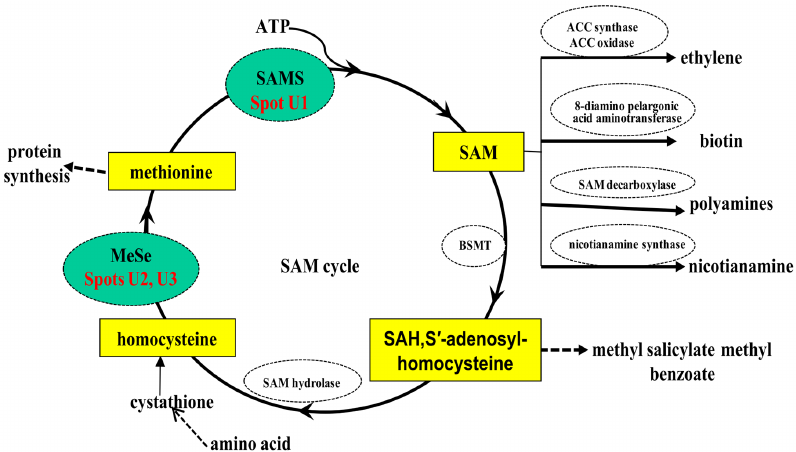 Figure 1. SAM cycle.
Donation of the SAM methyl group converts SAM into SAH, the latter being a potent inhibitor of methylation. For this reason, the SAM/SAH ratio has been used as an index of methylation potential in a cell. SAH in plasma has been found to be a more sensitive indicator for vascular disease risk than homocysteine. In addition, distinct classes of riboswitches that recognize SAH but not SAH and regulate gene expression have been discovered.
During the past decade, animal models of several disorders of homocysteine metabolism became available for studying the pathogenesis of the respective enzyme deficiencies. In contrast to human patients the animal models offer a unique opportunity to determine concentration of relevant metabolites including SAM and SAH also in tissues, which may help further elucidating the pathogenetic mechanisms in homocystinurias. The aim of this study was to develop an assay to monitor the levels of SAM and SAH in animal tissue samples and to explore the preanalytical conditions for this assay.
Currently, a reliable and reproducible method using highly sensitive HPLC-MS platform for the rapid identification and quantification of SAM and SAH in different sample types has been established by the experienced scientists at Creative Proteomics, which can satisfy the needs of academic and industrial study in your lab.
Summary
Identification and quantification of SAM and SAH.
Report
A detailed technical report will be provided at the end of the whole project, including the experiment procedure, instrument parameters.
Analytes are reported as uM or ug/mg (tissue), and CV's are generally<10%.
The name of the analytes, abbreviation, formula, molecular weight and CAS# would also be included in the report.
With integrated set of separation, characterization, identification and quantification systems featured with excellent robustness & reproducibility, high and ultra-sensitivity, Creative Proteomics provides reliable, rapid and cost-effective SAM and SAH targeted metabolomics services.
How to place an order:

*If your organization requires signing of a confidentiality agreement, please contact us by email.