The overall beneficial effect of olive oil on health is well known, and it is widely accepted that some of the beneficial effects are mediated by the phenolic compounds found in the olive.
The species and concentration of the phenolic compounds varies significantly among plant tissues. Oleuropein is the most prominent phenolic compound in olive. The oleuropein molecule consists of three parts: a polyphenol, namely 4-(2-hydroxyethyl) benzene-1,2-diol which is also known as hydroxytyrosol (HT), a secoiridoid called elenolic acid and a glucose molecule. Oleuropein has been demonstrated to have antioxidant, anti-inflammatory, anti-atherogenic, anti-cancer and anti-aging properties, and therefore is commercially available as food supplement in Mediterranean countries.
Hydroxytyrosol is a phenylethanoid. It is the principal degradation product of oleuropein. In nature, during maturation of fruit or as a result of olive processing (such as oil production), the concentration of oleuropein drops and the concentration of hydroxytyrosol increases. Hydroxytyrosol has been reported to have the potential to affect blood lipid levels.
Another compound that is abundantly found in olive is tyrosol. Tyrosol is also found in green wine and green tea. Even though tyrosol has relatively low antioxidant activity, it is more stable due to less autooxidation events. Some epidemiological studies showed a high correlation between a diet particularly rich in biophenols and a lower risk of cardiovascular diseases, and this may due to the antioxidant property of tyrosol, which protect cells against oxidation induced damage.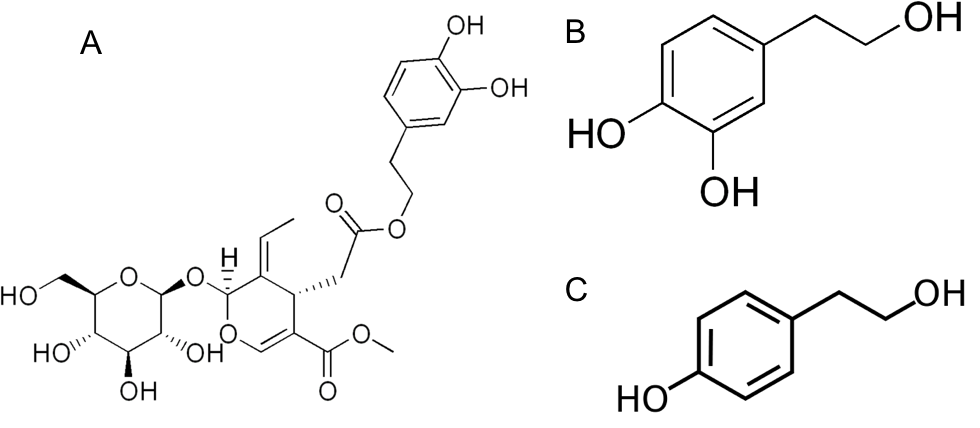 Figure 1. Structure of A) Oleuropein, B) Hydroxytyrosol, C) Tyrosol.
Creative Proteomics has developed Gas Chromatography-Mass Spectrometry (GC-MS) method to analyze the qualitative and quantitative occurrence of phenolic and secoiridoid compounds, which can satisfy the needs of both academic and industrial studies.
Feature and Advantage of Olive Phenolic Compound Service:
Cutting-edge facilities
Reliable & Reproducible
Platform
Sample Requirement
30 g (powder/oil sample), 30 mL (liquid samples), or 150 g (fresh produce)
Olive Phenol Compounds
Hydroxytyrosol
Oleuropein
Tyrosol
For other phenol compounds, please contact us for availability.
How to place an order:

*If your organization requires signing of a confidentiality agreement, please contact us by email.