Exosome Lipidomics
---
Exosomes are vesicles that are secreted from the cell and are present in many eukaryotic fluids, including blood and urine. Exosomes show a diverse mixture of proteins, lipids, DNAs and RNAs. It is believed that exosomes are either released directly from the plasma membrane or released when multivescular bodies fuse with the plasma membrane.
Accumulating evidence suggests that exosomes have specialized functions and play a predominant role in intercellular signaling and waste management. Exosomes has been suggested to play a role in several diseases, including cancer, neuropathologies and many other diseases. Due to the remarkably stable property in bodily fluids, exosomes have been used as reservoirs for noninvasive disease biomarkers.
Exosomes display original lipids organized in a bilayer membrane, the precise protein and lipid makeup of the exosome membrane is required to gain knowledge about their structures and functions, which is essential for understanding the mechanism of exosome formation, release and function. Moreover, exosomes can contain lipids such as eicosanoids, fatty acids, and cholesterol, and their lipid composition varies under different conditions. Because exosomes have different roles releasing from different cells, profiling what's in the exosome packages is very important to elucidate how parent cells affect other cells, as well as developing diagnostic biomarkers specific to particular parent cells. In contrast to the extensive information about the protein and RNA composition of exosomes, current knowledge about the lipid composition of exosomes remains largely unknown.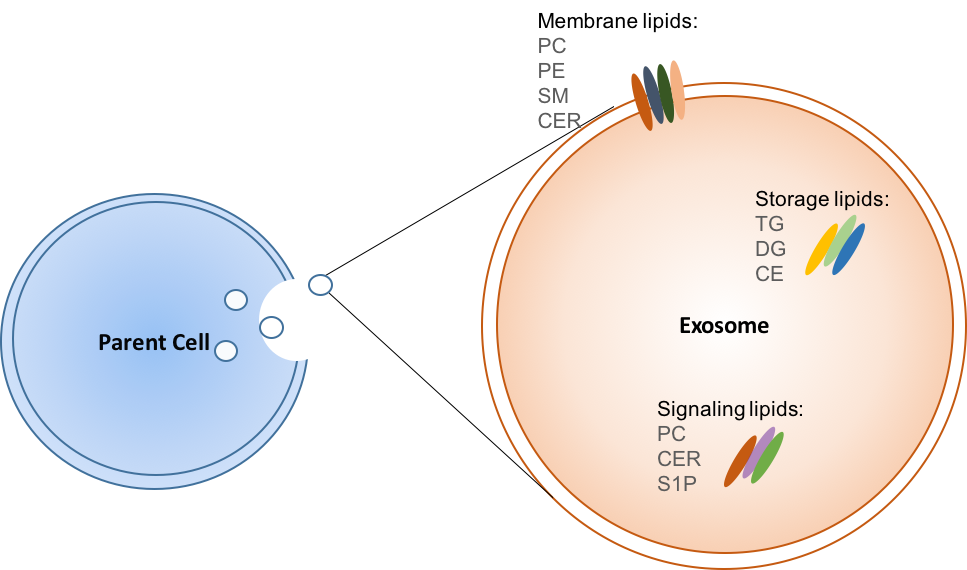 Fig1. Lipid composition of exosomes
Creative Proteomics provide exosome lipidomics analysis to help you identify and quantify the lipids in the exosomes quickly, accurately and efficiently. Sophisticated shotgun method and targeted lipidomic assays will be used for in-depth analysis of the exosome lipidomics. Please contact us for more information.
Feature and Advantage of Exosome Lipidomics Service
Cutting-edge facilities
Reliable & Reproducible
Sample Requirement
Serum/plasma: 0.5-1mL
Cell Media: 5-10 mL
How to place an order:

*If your organization requires signing of a confidentiality agreement, please contact us by email.
Our customer service representatives are available 24 hours a day, from Monday to Sunday.
Inquiry