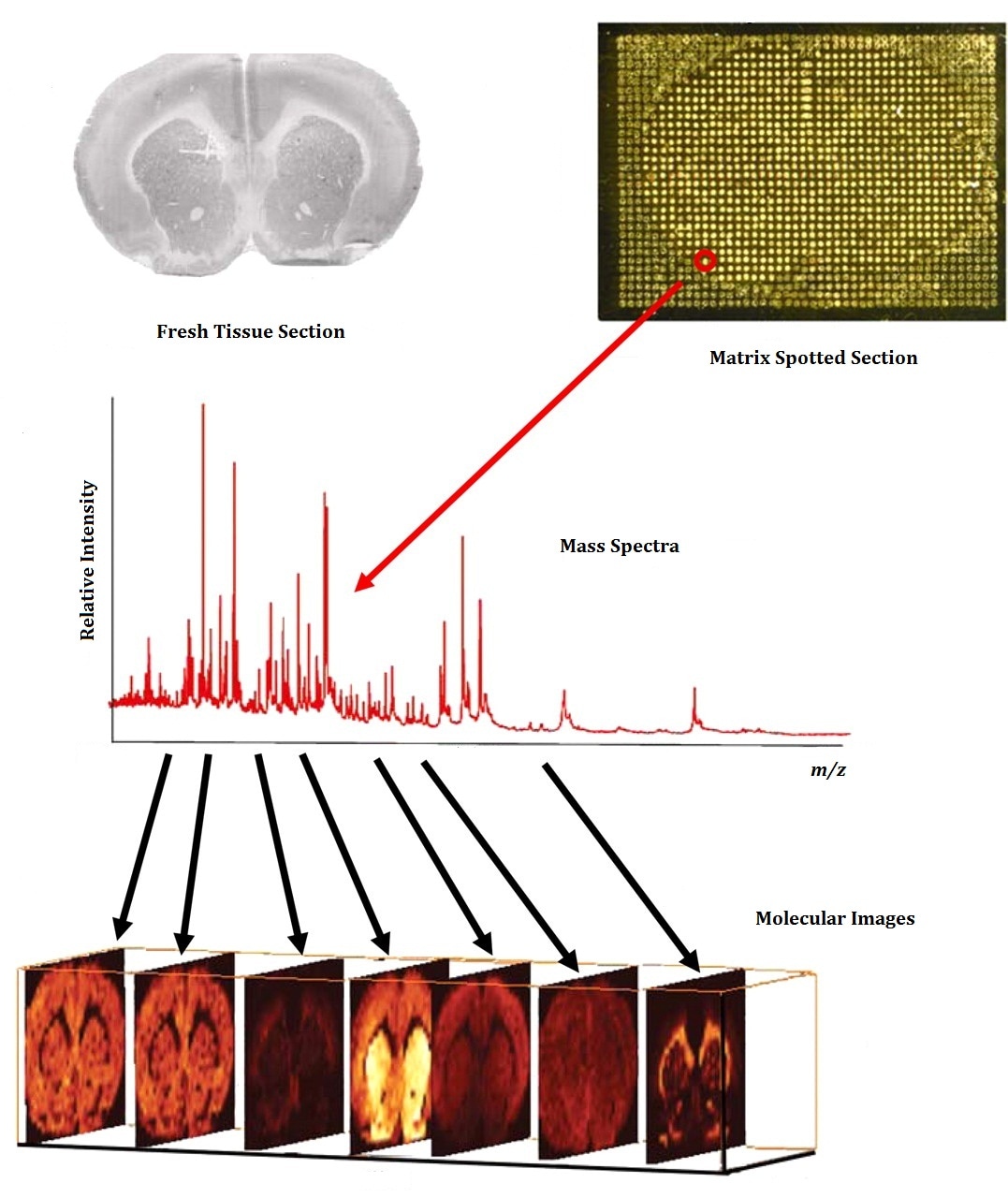 Mass Spectrometry Imaging (MSI), or Imaging Mass Spectrometry (IMS), is a promising analytical technique to determine and visualize the spatial distribution of specific chemical compositions, such as biomarker, metabolites, peptides/proteins by their molecular weights, with mass spectrometry. As a powerful analytical approach, Matrix-Assisted Laser Desorption/ Ionization (MALDI) facilitates the label-free tracking of both endogenous and exogenous compounds with spatial resolution and molecular specificity. Similar with immunohistochemistry, MSI is able to provide a high throughput scanning of compounds, but without the aid of antibodies.
Briefly, the target tissue would be sliced to thin films which would be embedded with organic matrix in sample preparation. The matrix would promote the desorption/ionization of the compounds of interest with a UV laser beam. The mass-to-charge ratio of the generated ions would be measured with a mass spectrometer over an programmed array of ablated spots. Multiple analytes can be identified and quantified simultaneously. So MALDI-MSI can present a quick snapshot of distribution of the molecules at a specific location on the tissue surface.
MALDI-MSI is a promising analytical approach utilized in drug discovery, forensic and biomedical research, to plot metabolic changes in the body, primarily related to the progression of diseases and therapeutic interventions.
In Creative Proteomics, our tech team can use MALDI-MSI to analyze as follow:
Small-Molecule Metabolites
Lipids
Endogenous Peptides/Proteins
Pharmaceutical Compound & Metabolites
Agrochemicals in Plant Tissues
With the installed MALDI-MSI system and required software and accessories for MALDI imaging, our experienced staff and well-trained technicians can help you to tissue slicing, sample preparation, imaging and image processing.