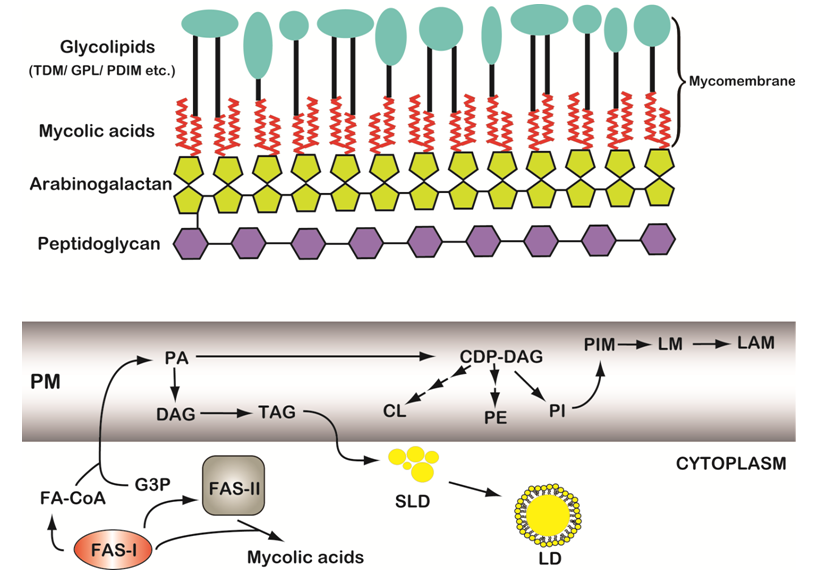 Mycolic acids (MAs) are the hallmark of the cell envelope of Mycobacterium tuberculosis and related species and genera. MAs are unique and complex molecular structures that are found either unbound, extractable with specific organic solvents such as esters of trehalose or glycerol, or esterifying the terminal pentaarabinofuranosyl units of arabinogalactan (AG), the polysaccharide that forms the insoluble cell wall skeleton together with peptidoglycan. Both forms probably play a crucial role in the extraordinary architecture and impermeability of the cell envelope, taking part in the two leaflets of the mycobacterial outer membrane, also referred to the mycomembrane, recently visualized using electron microscopy method. This concept has been established in Corynebacterium glutamicum, a species belonging to a genus that exhibits diverse features of the mycobacterial cell envelope, remarkably the presence of an MA-containing outer membrane.
Because Corynebacterium strains are viable in the absence of MAs, it has been proven that the outer membrane was no longer observed in C. glutamicum mutant strains devoid of MAs. Because the inhibition of MA synthesis is one of the main effects of the frontline and most efficient antitubercular drug isoniazid (INH), much attention has been paid to deciphering the chemistry and biosynthesis of MAs. The metabolic pathway of MAs represents a valuable source for recruiting latent targets for the development of novel anti-mycobacterial drugs in the alarming context of the emergence of extremely drug-resistant (XDR), multidrug-resistant (MDR), and totally drug-resistant (TDR) tuberculosis (TB). What' more, MA-containing compounds have been associated in the past not only to numerous physiological properties of mycobacteria, such as their characteristic serpentine-like growing and ''cord-forming,'' but also to many biological properties, such as adjuvant and antineoplastic capacity of purified and crude cell wall fractions.
The last decade has seen great progress in the development of the biochemistry, structures, genetics, and regulation of MAs. Novel roles have also been discovered and attributed to MAs and their subfamilies in diverse phenomena, such as foamy macrophage formation and biofilm formation in TB granulomas.
Currently, a reliable and reproducible method using highly sensitive LC-MS/MS platform for the identification and quantification of mycolic acids in different sample types has been established by the scientists at Creative Proteomics, which can satisfy the needs of academic and industrial study in your lab.
Platform
Summary
Identification and quantification of mycolic acids.
Sample Requirement
Normal Volume: 200 uL plasma, 20 mg tissue, 1e7 cells
Minimal Volume: 50 uL, 5 mg tissue, 6e6 cells
Report
A full report including all raw data, MS/MS instrument parameters and step-by-step calculations will be provided (Excel and PDF formats).
Analytes are reported as uM, with CV's generally ~10%.
Ordering Procedure:

*If your organization requires signing of a confidentiality agreement, please contact us by email.
Staffed by experienced biological scientists, Creative Proteomics can provide a wide range of services ranging from the sample preparation to the lipid extraction, characterization, identification and quantification. We promise accurate and reliable analysis, in shorter duration of time! You are welcome to discuss your project with us.