KEGG, abbreviation of Kyoto Encyclopedia of Genes and Genomes, is a collection of databases, which is used for bioinformatics research, including data mining in genomics, proteomics, metabolomics and other omics studies, modeling and simulation in systems biology, and translational research in drug R & D. Through the KEGG databases can be categorized into systems, genomic, chemical, and health information, which is distributed in the KEGG PATHWAY, KEGG BRITE, KEGG MODULE, KEGG GENES and so on. KEGG, connects known information on molecular interaction networks, such as pathways and complexes (the "Pathway" database), information about genes and proteins generated by genome projects (including the gene database) and information about biochemical compounds and reactions (including compound and reaction databases). These databases are different networks, known as the "protein network", and the "chemical universe" respectively. There are efforts in progress to add to the knowledge of KEGG, including information regarding ortholog clusters in the KEGG Orthology database.
KEGG PATHWAY database (the wiring diagram database) is the core of the KEGG resource, which contains the higher order functional information, including graphical representations of cellular processes, such as metabolism, membrane transport, signal transduction and cell cycle. A collection of pathway maps integrating genes, proteins, RNAs, metabolites, glycans, and chemical reactions, as well as genes involved in specific diseases and drug targets, are all stored as individual entries in the other databases of KEGG.
KEGG Annotation Analysis Service at Creative Proteomics include:
KEGG Pathway annotation
KEGG Pathway classification
The annotated proteins can be classified into the following sections with the aid of KEGG Annotation Analysis Service:
Metabolism
Genetic information processing (transcription, translation, replication and repair, etc.)
Environmental information processing (membrane transport, signal transduction, etc.)
Cellular processes (cell growth, cell death, cell membrane functions, etc.)
Organismal systems (immune system, endocrine system, nervous system, etc.)
Human diseases
Drug development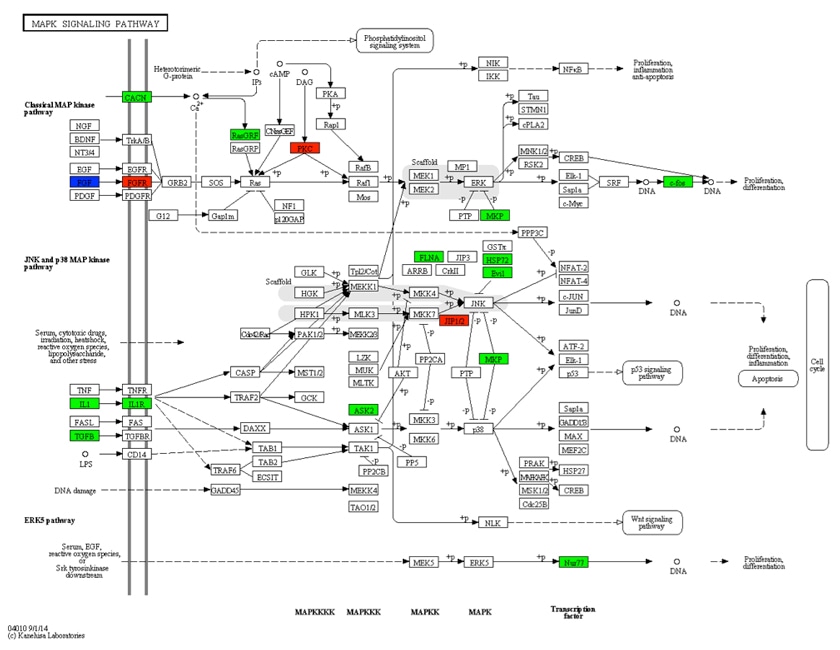 How to place an order:


*If your organization requires signing of a confidentiality agreement, please contact us by email
As one of the leading omics industry company in the world! Creative Proteomics now is opening to provide KEGG annotation analysis service for our customers. With over 8 years experience in the field of bioinformatics, we are willing to provide our customer the most outstanding service! Contact us for all the detailed informations!