Glycosphingolipids are ubiquitous in both cell membranes and serum. They either present in a free form or exist in a complex with some other proteins. The glycan head group moiety determines the biological function of glycosphingolipid. It is known to all that abnormal glycosphingolipid glycosylation is closely associated with many types of cancer, such as breast, lung cancer, and brain tumors. Glycosphingolipid glycans are also participating in many cellular processes, such as signaling and receptor functions, and cell differentiation. So it is of great value to analyze the structure of the head group of glycosphingolipid glycan in detail.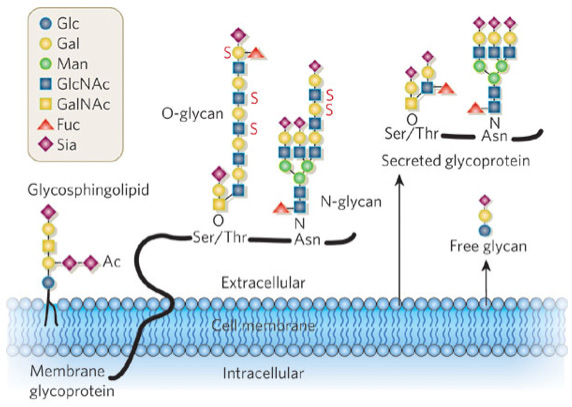 Comprehensive analysis of glycosphingolipid glycan requires the use of endoglycoceramidase, which has broad substrate specificity, and robust workflow for high-throughput analysis. Several steps are involved in glycosphingolipid glycans analysis:
Extraction and purification of glycosphingolipids from cell membranes or serum;
Release glycosphingolipid glycans with Endoglycoceramidase;
Permethylation of glycans
2AB labeling-UPLC-HILIC-FLD based analysis;
Permethylated glycans were analyzed by MALDI-TOF MS
Additionally, confirmation of those glycan structures by MS/MS fragmentation can be done if required.
How to place an order:
 

*If your organization requires signing of a confidentiality agreement, please contact us by email
As one of the leading companies in providing omics analysis service, Creative Proteomics provides reliable glycomics analysis service for our customers. Contact us for more detailed information!