Glycomic Profiling Service
---
Glycomics refers to the collection, analysis, and exploitation of glycol biological data at the glycome level. The profound biological effect of lipid glycosylation and protein has made glycomics an important field in the life sciences. Global N-glycomic profiling (the comprehensive study of all glycans) is a good complement to genomic and proteomic studies. Glycomics studies in a cell or organism level can be used to provide a general overview on the glycome, the total glycosylation pattern of glycoproteins, lipids, or other types of biomolecules. Glycomic profiling is useful to compare the difference of two glycol-engineered host strains for your therapeutic glycoprotein production or compare different stages of cancers, which could provide new biomarkers.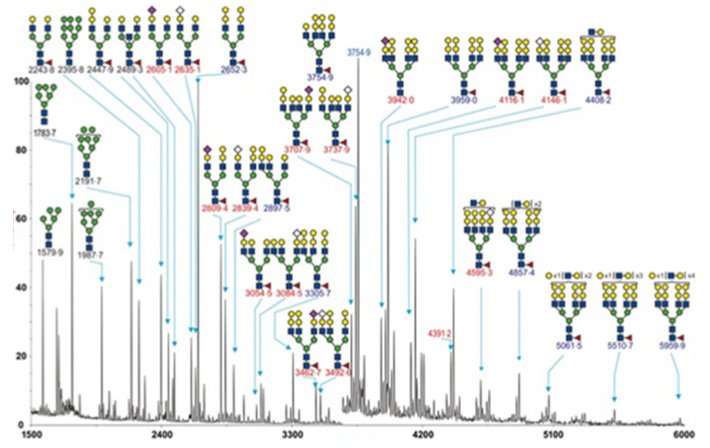 Glycomic profiling Service by MALDI TOF MS
 This service is for the identification of an entire set of N-glycans expressed by plasma/serum, cell, tissue or organism. All glycans attached to the proteins will release by enzymatic digestion, and then separated by hydrophilic chromatography and finally quantitatively profiled with MALDI-TOF MS system. Steps are briefly showed as below:
Sample preparation
glycoprotein and/or glycolipid fractions isolation
N-, O- and/or glycosphingolipid glycans release
Permethylation of glycans
Analysis of native and permethylated glycans by MALDI-TOF MS
Glycan structures confirmation by MS/MS fragmentation if required
Statistical Analysis for the potential biomarker glycans.
What kind of results you can get from this glycoprofiling service on request?
 1, Information of the native and permethylated glycans from your samples;
 2, Structure of the glycans from the sample.
How to place an order:
 

*If your organization requires signing of a confidentiality agreement, please contact us by email
As one of the leading companies in the omics field with over years of experience in omics study, Creative Proteomics provides glycomics analysis service for our customers. Contact us to discuss your project!
* For Research Use Only. Not for use in diagnostic procedures.
Our customer service representatives are available 24 hours a day, 7 days a week.
Inquiry