Cholesterol Ester Analysis Service
---
Cholesterol esters are a dietary lipid, which derived from cholesterol. Cholesterol esters are formed when the body produces enzymes to produce a metabolic reaction with the cholesterol itself. The ester bond is formed between the carboxylate group of a fatty acid and the hydroxyl group of cholesterol. Cholesterol esters are largely spread in body fluids of animals (plasma lipoproteins) and may be also found in vessel walls as fatty streaks in atherosclerosis. Cholesterol esters have a lower solubility in water due to their increased hydrophobicity.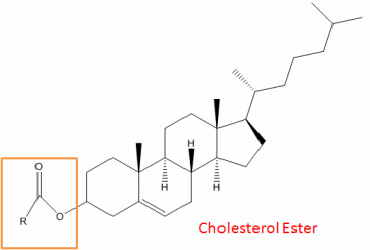 For the analysis of cholesterol esters, we use  a MS protocol that yields profiling data on all individual cholesterol ester  molecular species based on the associated fatty acids. We recommend cholesterol  ester profiling scans at the semi-quantitative level, which allows direct comparison  between samples or treatments. On special request, we can also quantitate the  molecular species based on existing standards.
Technology Platform:
ESI Liquid Chromatography Mass Spectrometry (ESI- LC/MS)
Sample Type:
Cultured Cells
Cultured or uncultured primary mouse cells  or cell lines
Cholesterol esters (~30 abundant species) could monitored in This Service
Ordering Procedure:

With integrated set of separation, characterization,  identification and quantification systems featured with excellent  robustness & reproducibility, high and ultra-sensitivity,  Creative Proteomics provides reliable, rapid and cost-effective Lipidomics services.
* For Research Use Only. Not for use in diagnostic procedures.
Our customer service representatives are available 24 hours a day, 7 days a week.
Inquiry