Endocrine disruptors are chemicals that interfere with the body's endocrine system and produce adverse neurological, developmental, reproductive, and immunological effects in humans and animals. Endocrine disruptors can affect every level of the endocrine system and have the ability to bind and activate endocrine receptors (ERs) in the target tissue. Based on the effects of endocrine disruptors, some scientists classify endocrine disruptors into three classes: obesity related, hormone disrupting, and cancer related.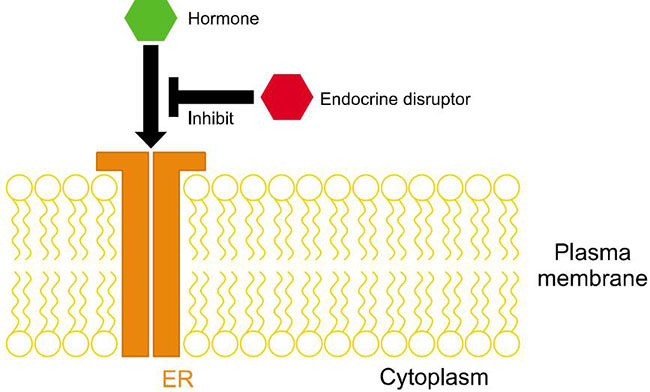 Figure1. Common molecular mechanisms of endocrine disruptors. (Yang O, et al, 2015.)
Endocrine disruptors can be found in many products, including plastic bottles, flame retardants, metal food cans, detergents, food, toys, pesticides, and cosmetics. Due to the toxicity of endocrine disruptors, we should monitor them in the environment or in the products. Therefore, many possible endocrine disruptors are technically regulated in the United States.
Endocrine Disruptors Analysis at Creative Proteomics
At Creative Proteomics, we can use various analytical methods for endocrine disrupter analysis. And we can accurate analysis not only what endocrine disrupting compounds are present in these samples, but how much are there. Creative Proteomics can analyze many endocrine disrupting compounds, including but not limited:
Bisphenol-A
Mono-(2-ethyl-5-hydroxyhexyl) phthalate
Mono-(2-ethyl-5-oxohexyl) phthalate
Mono-ethylhexyl phthalate
Mono-n-butyl phthalate
At Creative Proteomics, we have sophisticated instruments and professional technicians to provide excellent identification and quantitative analytical information for endocrine disrupting. There are various analytical methods to be widely used to determine various kinds of trace level organic compounds of endocrine disrupting, including but not limited:
Extraction methods: solid phase extraction (SPE), solid phase microextraction (SPME), and liquid phase microextraction (LPME), etc.
Mass-based analytical methods: gas chromatography-mass spectrometry (GC-MS), liquid chromatography coupled to tandem mass spectrometry (LC-MS/MS), chromatography-tandem mass spectrometry (GC–MS/MS), high performance liquid chromatography (HPLC), high performance liquid chromatography with positive electrospray ionization and tandem mass spectrometry (HPLC/ESI-MS/MS), etc.
Our Advantages
Very low levels of endocrine disruptor compounds can be detected.
Provide enough sensitivity to analyze endocrine disruptor compounds with minimum sample preparation.
We can analyze endocrine disruptor in complex matrices, such as water, soil, foods, or other products, etc.
Creative Proteomics is a leading biotech company specializing in offering a set of services for endocrine disrupting analysis. Depending on the target compounds, various combinations of instruments and detectors can be applied to obtain improved analytical results. Our high-quality data and efficiency of the experimental cycle meet the demands for environment analysis solution, acquiring the customer's consistent good comments. If you have any questions or specific requirements, please do not hesitate to contact us.
References
Yang O, et al. Endocrine-disrupting Chemicals: Review of Toxicological Mechanisms Using Molecular Pathway Analysis. Journal of cancer prevention. 2015, 20(1):12-23.
Chang H S, et al. The methods of identification, analysis, and removal of endocrine disrupting compounds (EDCs) in water. Journal of Hazardous Materials. 2009, 172: 1–12.