Commonly, contaminants in the limelight which has been considered "traditional" or well-known contaminants include toxic heavy metals such as lead and cadmium, certain pesticides and polyaromatic hydrocarbons. It is different from some "new" or emerging contaminants, for example, hormones veterinary medicines, and engineered nanomaterials. Emerging contaminants (ECs) are chemicals of a synthetic origin or deriving from a natural source that has been discovered recently and for which environment or public health risks are not yet to be established. Human activities such as farming, commercial fishing, manufacturing, and transportation have increased the presence of contaminants in the environment. ECs have been detected in virtually every country's natural environment and as a consequence, they represent a global problem.
Several types of ECs exist such as antibiotics, pesticides, pharmaceuticals, personal care products, effluents, certain naturally occurring contaminants and more recently nanomaterials. Because of the lack of information on the toxicity of these contaminants to their receptors, it is difficult for regulatory agencies to manage. One example concerns perfluorooctanesulfonic acid (PFOS) and perfluorooctanoic acid (PFOA) which are the active ingredients present in aqueous film-forming foam. Until recently their persistence and toxicity to the environmental microbiota and people were discovered.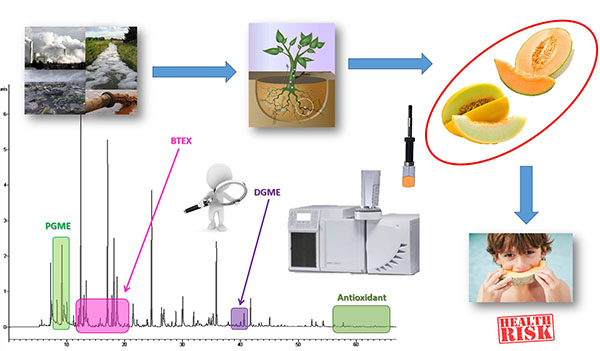 Emerging Contaminants Analysis at Creative Proteomics
At Creative Proteomics, we offer a range of analytical ways to characterize and quantify ECs with some advanced apparatus to assist you to accomplish a series of tasks.
Analyzing emerging contaminants
Many academic researchers, regulatory bodies and environmental groups have found that some known contaminants that have been identified as "ECs" by data collection and evaluation from various sources. As a professional team, Creative Proteomics can use a systematic approach to help you analyze these ECs, including pesticide, pharmaceuticals, personal care products (PPCPs), industrial additives and by-products, food additives, water treatment by-products and nanoparticles.
Pesticide. Numerous regulatory agencies and research organisations have evaluated pesticides in many aspects, especially in their metabolites. These metabolites are characterized as being biologically active, displaying high levels of toxicity and regularly detected in groundwater. For these reasons, some pesticides once were thought to be acceptable, have recently become an emerging contaminant. We can analyze these pesticides, such as 3-hydroxycarbofuran, acephate, acetochlor ethanesulfonic acid (ESA), acetochlor oxanilic acid (OA), captan, clethodim, among others.
Pharmaceuticals. Pharmaceutical chemicals in the environment may come from defecation, discarding of products without prior use or veterinary use. And these pharmaceutical products have been detected in surface and groundwater, including antibiotics, drugs (both prescribed and non-prescribed), and iodinated X-ray contrast media.
Personal care products. The two main PPCPs detected in groundwater are caffeine and nicotine, which mainly originate from sewage effluents. The typical example is triclosan, which is commonly used as an active ingredient in household products, including toothpaste, soaps and anti-microbial products.
Industrial additives and by-products. Most industrial chemicals released into environment are classified as controlled pollutants or have drinking water limits, so they cannot be considered ECs. However, their by-products are regarded as ECs, such as benzotriazole derivatives and dioxins.
Food additives. Sweeteners have been indicated in sanitary water via human excretion, for instance, acesulfame, saccharin and sucralose. Another food preservative, parabens, were also detected in groundwater.
Water treatment by-products. N-nitrosodimethylamine (NDMA) is a contaminant found in drinking water because of its potential to form during wastewater chlorination and its carcinogen effects.
Nanoparticles. Nano-contaminants are a general term for harmful substances produced during the manufacture or use of nanomaterials. It is small in size, can float in the air, and easily penetrates into animals and plant cells. For example, the combustion of coal produces potentially harmful titanium oxide fine particles.
Techniques for analyzing emerging contaminants
Creative Proteomics has invested a lot of energy in detecting ECs. Most ECs are unknown and present at trace amounts in the environment, so we have to use modern advanced technologies for characterization, identification and quantitation.
Based on gas phase or liquid phase, basic chromatography capabilities are limited and generally fail to meet requirements for emerging contaminant analysis. Triple quadrupole mass spectrometers offer selective monitoring of targeted compounds through Select Reaction Monitoring (SRM), proving high sensitivity in complex environmental samples. As for unknown identification, high-resolution accurate-mass (HRAM) mass spectrometry in Orbitrap technology can be used to clearly illuminate the structure of unknown compounds. Analytical tools are as follows: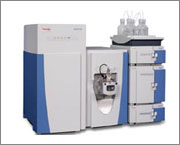 Liquid chromatography coupled with high resolution mass spectrometry (LC-HRMS)
Screen methods for ECs in wastewater effluent, surface and groundwater can be developed using the LTQ Orbitrap. By using the most advanced LC-Orbitrap platform, we can offer you a high-throughput sample processing results.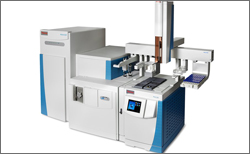 Gas chromatography coupled with high resolution mass spectrometry (GC-HRMS)
The GC-MS/MS system can offer comprehensive sample characterization in on analysis, ensuring the highest level of confidence in ECs compound discovery, identification and quantification.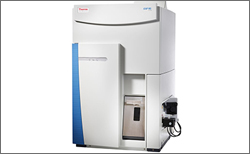 Single nanoparticle inductively coupled plasma mass spectrometry (SP ICP-MS)
Using the right software, nanoparticles can be characterized by ICP-MS with great speed, accuracy and precision. It is suitable for complete trace element analysis solutions in high throughput laboratories.
Creative Proteomics can help you with the analysis of emerging contaminant to meet the needs of constant assessment. We also could provide a range of analytical tools and platforms for identification of novel, unknown or contaminants of emerging concern for consideration in future regulation. Please contact us in time, we can offer you the fastest and most optimized solution.
References
Naidu, R., et al. Emerging contaminants in the environment: risk-based analysis for better management. Chemosphere. 2016, 154, 350-357.
Lim, L., et al. Fourier transform mass spectrometry: The transformation of modern environmental analyses. Int J Mol Sci. 2016, 17(1), 104.