The sequence composition of the N-terminus of the protein has a great influence on the overall biological function of the protein, which affects the half-life of the protein and the location of protein subcellular organelles. N-terminal sequencing analysis of proteins helps to identify the high-level structure of the protein to reveal the biological function of the protein. At the same time, N-terminal sequencing can analyze the modification sites of proteins, such as the N-terminus of protein and peptide drugs. Analyze the positions of artificial modifications such as cyclization modification and methylation modification to improve its degradation stability and prolong its efficacy. Our N-terminal sequencing technology service can provide N-terminal sequencing analysis methods for biopharmaceutical proteins or other biological reagents such as Edman sequencing and de novo sequencing. These two methods can complement each other to obtain comprehensive N-terminal sequence analysis information.
Creative Proteomics is a reliable biopharmaceutical partner with professional proteomics research resources. We use first-class experimental platform and mature technical methods to provide you with high-quality one-stop service. The analysis and confirmation of the N-terminal sequence of protein and peptide drug molecules is an important part of quality control in the pharmaceutical industry. In particular, the ICH Q6B guidelines require the provision of N-segment sequence information for protein (peptide) drugs. We will provide you with comprehensive and GLP / cGMP-compliant N-terminal sequencing analysis service around the ICH guidelines (especially ICH Q6B) and the US FDA issues 'Points to Consider' document.
We Can Provide but Not Limited to:
Identification of advanced structure of proteins
N-terminal sequence analysis
Analysis of N-terminal modification sites
Sequencing light and heavy chain terminals
Technology Platform of N-terminal Sequencing Analysis Service:
Creative Proteomics effectively identifies and analyzes the N-terminus of proteins by fluorescent labeling, trypsin digestion, chemical labeling combined with mass spectrometry, and differential peptide mapping, etc.
We provide the following analysis methods:
1) N-terminal peptide sequencing via Edman degradation
The N-terminal amino acid group of the protein is labeled with phenyl isothiocyanate (PITC), selectively cleaves the labeled N-terminal amino acid, and the extracted phenylthiohydantoin is identified by MS Urea (PTH)-amino acid, according to this procedure to determine the amino acid sequence of the protein. The specific workflow is as follows.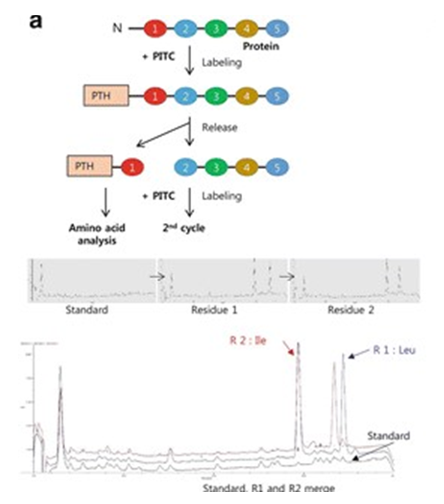 The workflow of the N-terminal peptide sequencing via Edman degradation (Yun S.H et al. 2019).
2) De novo N-terminal peptide sequencing by Tandem MS
This technology is mainly through the use of fluorescent reagents to selectively label the N-terminal α-amino group of the protein, while using trypsin for protein digestion, with the help of LC-MS / MS system and Fluorescence detector performs tandem mass spectrometry analysis. In order to obtain a complete and high-quality complete N-terminal sequence of the protein, this method also adds a differential peptide mapping step for identifying the pyroglutamate-blocked N-terminal peptide. The specific workflow is as follows.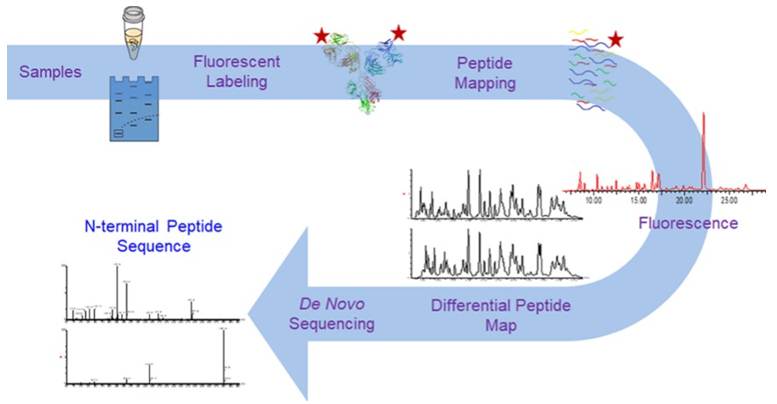 Workflow for identification and sequencing of N-terminus by mass spectrometry (Vecchi M M et al. 2019).
Advantages of N-terminal Sequencing Analysis Service:
Short time-consuming: The technology uses a first-class experimental platform and the sample preparation and processing process is simple and easy to operate, which greatly shortens the time for sample identification and analysis.
High sensitivity: Combined with fluorescent labeling and mass spectrometry analysis methods, high sensitivity can be achieved during the analysis of N-glycosylation sites.
High-throughput: N-terminal sequence of proteins can be accurately analyzed by Edman sequencing, and mass spectrometry analysis can solve the problem of N-terminal blockage and PTM limitation. For this reason, there is no limitation of sample types for protein N-terminal sequencing, and Will not be restricted by N-terminal block and PTM.
Rapid turnaround time: 5-7 days to provide detailed technical reports.
Customized service: We can customize professional solutions for you according to your research plan needs. You can select or suggest the required items for analysis.
Creative Proteomics's professional researchers can provide customers with comprehensive N-terminal sequence sequencing information of biopharmaceutical proteins to realize the analysis of protein advanced structure and modification sites. We will provide you with detailed experimental process steps and the final N-terminal sequence information analysis report and other data reports. We are committed to providing you with expertise in protein N-terminal sequences to help you solve problems related to analytical techniques.
References
Yun S.H, Choi CW, et al. A Proteomics Approach for the Identification of Novel Proteins in Extremophiles. Grand Challenges in Biology and Biotechnology, 2016.
Vecchi M M, Xiao Y, et al. Identification and Sequencing of N-Terminal Peptides in Proteins by LC-Fluorescence-MS/MS: An Approach to Replacement of the Edman Degradation. Anal Chem, 2019, 91(21):13591-13600.