Whether your biologic drug is a new molecule or a biosimilar, drug batch and batch release testing are key steps in drug development. Release testing is a key link to ensure that the drug substances, drug products, raw materials, and materials in the process meet the established specifications before the final product is released. Creative Proteomics's biopharmaceutical experts can provide verifiable solutions for release testing to address your molecule's identity, purity, biosafety, concentration, and potency.
As an important part of the quality control process, GMP biopharmaceutical lot or batch release testing services include identifying and analyzing active substances and excipients, purity determination, and determination of breakdown products and contaminants, concentration, consistency, characterization, and characterization biosafety.
Our GMP Biopharmaceutical Release Testing Service
Creative Proteomics' release testing services are applicable to biosimilars, therapeutic protein treatments, monoclonal antibodies, oligonucleotides, gene therapy products, and other biologics. We have exceeded expertise in all stages of biological product development, from internal protein biochemistry, molecular biology, cell biology to QC experience, which supported the entire product development life cycle from early discovery to Ind, BLA, etc.
Why Choose Creative Proteomics?
We have extensive experience working with multiple model types and have the flexibility and broad instrumentation capabilities, flexible protocols, and study designs. Our consultative scientists are experts in regulatory guidance, advanced analytical techniques, and interpretation of data.
Our Experience
Our routine biosimilar batch release testing service has been successfully used for the analysis of various biological agents
-Therapeutic proteins (mabs, fusion proteins and recombinant proteins)
-Synthetic peptides
-Therapeutic Enzymes
-Oligonucleotides
-Cell/Gene Therapies
-Vaccines
-Biosimilars: insulin interferon α, β, γ, human coagulation factor VII, viii, etc.
Biologics Release Testing Services Include: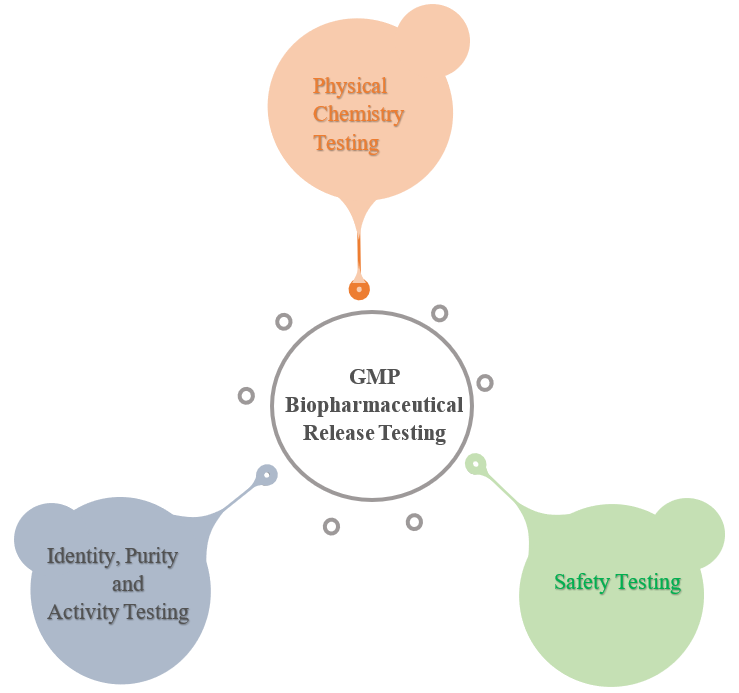 Parameter
Test
Analytical Method
Physical Chemistry
Ph, Osmolality, Volume, Appearance
Pharmacopeia
Particulate Matter
Pharmacopeia Methods Sub-vis
Water Content
Karl Fisher
Potency
ELISA
Identity, Purity and Activity
Protein Concentration
A280 e.g. SoloVPE/SDS PAGE/(RP) •HPLC
Aggregates
SEC, DLS
Charged Variants, Determination of pl
IEF, IEX,
Glycosylation
Glycan Mapping, Monosaccharides e.g. HPLC
Fragments
SDS-PAGE, CE-SDS, RP-HPLC, SEC
Peptide Mapping
UPLC (UV)
Protein Variants
RP-HPLC, IEF, IEX, Peptide Mapping (UV or MS)
Primary Structure
Peptide Mapping (pep-UV or MS)
Safety
Microbiology
Bioburden, Sterility, Endotoxin
Process Related Impurities
Impurity Dependant
HCP, DNA, Mycoplasma
HCP-ELISA, PCR or Dye Assay for DNA, PCR for Mycoplasma
Experts from Creative Proteomics are always on hand to provide scientific and technical support coupled with project management and timely report to drive your development and manufacturing programs forward. We follow the principles of analysis of identity, purity, quantity, as well as product- and process-related safety and efficacy in accordance with the ICH Q6B guidelines of technical requirements for biotechnological/biological products.