TALK WITH AN EXPERT
Glycopeptides Analysis Service
Glycopeptide analysis can be used to study the structure of glycans, analysis of glycosylation sites and to identify the biology of glycosylation, therefore, the analysis of glycopeptides is an important biochemical technology for biopharmaceutical development projects. The technical method can be used to determine the glycopeptide sequence information, glycosylation type and glycosylation site of biopharmaceutical proteins or other biological agents, and determine the glycan structure and relative content.
Creative Proteomics is a reliable partner with professional analytical techniques and operational procedures. We use advanced equipment and operable analysis methods to provide you with high-quality one-stop service. Glycopeptide analysis is an important part of the ICH Q6B specification. We will provide you with comprehensive and GLP / cGMP compliant glycopeptides analysis services around the ICH guidelines (especially ICH Q6B) and the US FDA issues 'Points to Consider' document.
We Can Provide but Not Limited to:
Glycopeptide sequence analysis
Glycopeptide molecular weight analysis
Glycan type composition analysis
Glycan structure analysis
Glycan sites occupation analysis
Analysis of the end group configuration of sialic acid
Technology Platform of Glycopeptides Analysis Service:
Creative Proteomics is derived from sialic acid technology, high performance liquid chromatography (HPLC), hydrophilic liquid interaction chromatography (HILIC), lectin affinity analysis method, porous graphite carbon (PGC) technology, collision induced dissociation (CID) and mass spectrometry (MS) analysis methods to determine the comprehensive characterization information of glycopeptides.
We provide the following analysis methods:
1) Immobilize the glycoprotein on the solid phase matrix, and then use the column with ethylenediamine (EDA) for the derivatization of α2,6 and α2,3 linked sialic acid. The obtained derivative products were separated and purified by HPLC, followed by HILIC enrichment, and glycopeptides and peptides were directly digested from the solid support and subjected to LC-MS / MS test and search by Byonic and Byologic to obtain complete glycopeptide characterization information.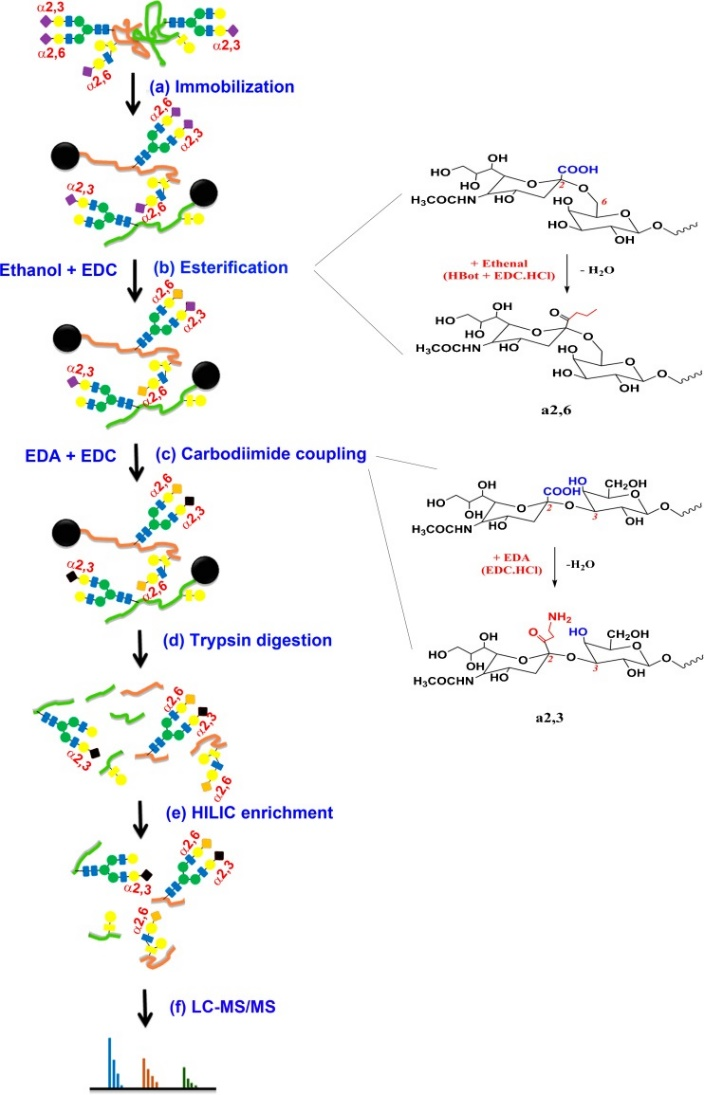 Schematic scheme of glycoprotein modification using a chemoenzymatic solid-phase method
(Yang S et al. 2018.)
2) Digestion of glycoproteins using trypsin, followed by lectin affinity analysis method combined with PGC for peptide and glycan separation and CID to obtain MS analysis of glycopeptide fragments. Followed by the use of glycopeptide spectrum interpretation automated method software such as SimGlycan and GlypID 2.0 to analyze the mass spectrum to obtain glycopeptide analysis information.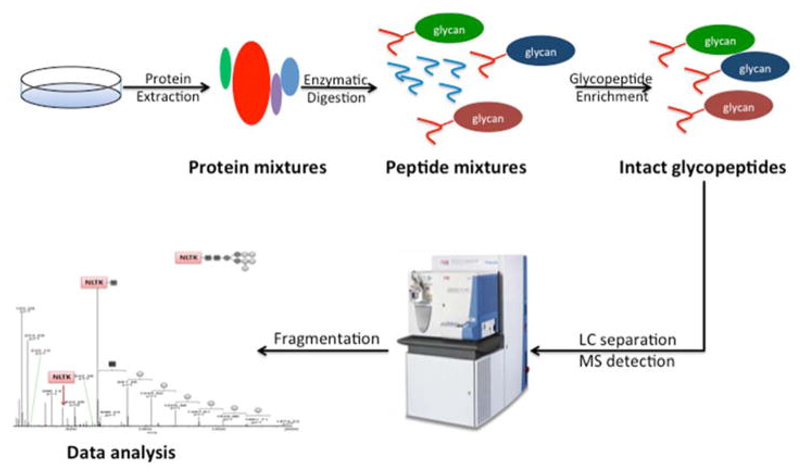 Overall workflow of glycopeptide characterization using mass spectrometry
(Cao L et al. 2016.)
Advantages of Glycopeptides Analysis Service:
Short time-consuming: This service uses advanced bioinformatics tools to automatically allocate complete glycopeptides, simplifying the analysis of experimental results.
Optimized analysis technology: The analysis techniques use advanced mass spectrometry fragmentation methods to reliably assign glycosylation site location and glycopeptide sequencing.
High throughput: Affinity-purified combined experimental protocol was used to perform multiple affinity-purified glycopeptides to increase the number of samples tested. At the same time, a general method for enriching O-linked glycopeptides and N-linked glycopeptides was established, which increased the coverage of glycoprotein groups.
Rapid turnaround time: 5-7 days to provide detailed technical reports.
Customized service: We can customize professional solutions for you according to your research plan needs. You can select or suggest the required items for analysis.
Creative Proteomics's professional researchers can provide customers with comprehensive glycopeptide analysis services. We will provide you with detailed experimental procedures, related peptide map analysis and comprehensive glycopeptide characterization analysis reports and other detailed data reports. We are committed to providing you with professional and high-quality services to help you solve problems related to analysis and technology.
References
Yang S, Wu W W, et al . Identification of Sialic Acid Linkages on Intact Glycopeptides via Differential Chemical Modification Using IntactGIG-HILIC. J Am Soc Mass Spectrom. 2018, 29(6):1273–1283.
Woodin C L, Maxon M, et al. Software for automated interpretation of mass spectrometry data from glycans and glycopeptides. Analyst. 2013, 138(10):2793–2803.
Cao L, Qu Y, et al. Intact glycopeptide characterization using mass spectrometry. Expert Rev Proteomics. 2016, 13(5):513–522.
*For Research Use Only. Not for use in the treatment or diagnosis of disease.