Gene therapy was first pointed out by Theodore Friedmann and Richard Roblin back in 1972 regarding its potential to treat genetic diseases. After decades of research and development, gene therapy has finally made its breakthroughs and become a new bright spot in the pharmaceutical industry. Novel therapeutic approaches address substantial unmet clinical needs. For example, gene therapy drugs are in clinical trials with demonstrated efficacy in ophthalmology, neurological disorders, muscular tissue disorders, hematological disorders, metabolic disorders, and oncological diseases.
Vector technology is a central part of the gene therapy process, and it delivers the correct gene fragments to target cells via vectors to avoid degradation by the body before they take effect. Despite the rapid development of non-viral vector technologies, viral vectors still dominate the industry, with rAAV being the predominant viral vector.
As a result, rAAV technology has gained more popularity, resulting in an increasing number of rAAV production processes. It is worth noting that in vivo gene therapy, rAAV, is injected directly into the human body. Therefore, the quality control of rAAV is crucial, and reliable tools and methods are required to characterize and analyze rAAV.
Currently, AAVs characterization consumes considerable samples and time. This is due to the AAVs' highly structural complexity, limited samples, and low concentration, which pose higher challenges for rAAV characterization and analysis. Therefore, there is an urgent need for reliable analysis technologies that reveal the structure-function relationship, guide the development of manufacturing processes, and evaluate clinical materials' quality; thus, solving difficulties regarding the stability, scale, and activity of viral vector manufacturing can achieve clinical translation.
Our Gene Therapy Products Characterization Services
As we all know, liquid chromatography (LC) and liquid chromatography-mass spectrometry (LC-MS) technologies have long application history in the development, characterization, and quality testing of therapeutic recombinant proteins.
Based on the superior performance of LC and LC-MS technologies for therapeutic recombinant proteins, creative proteomics has developed streamlined, durable LC and LC-MS workflows to assess clinical-grade viruses in response to the analytical challenges of AAV samples. This includes volume exclusion chromatography (SEC), ion-exchange chromatography (AEX), protein reversed-phase, and peptide mapping LC-MS analysis. Our LC-MS devices and analytical procedures are also suitable for lentiviruses, adenoviral vectors, and other viral vectors related products.
Our Services Including But Are Not Limited to
Identification and purity analysis of viral proteins:
RP-HPLC
Anion Exchange HPLC
SEC-MALS
SDS-PAGE
CE-SDS
icIEF
Protein ID, sequence confirmation, assessment of N- and C-terminus, and evaluation of post-translational modifications:
Glycan profiling of viral envelope proteins (both N- and O-linked (if present))
Protein ID from SDS gels
Workflow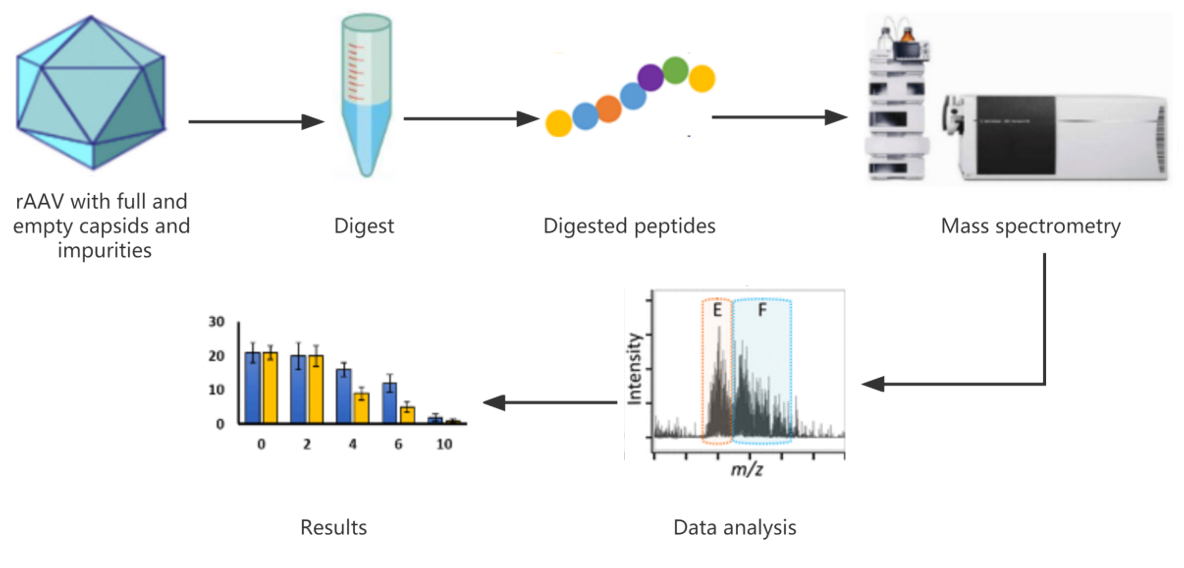 Advantages
➢ Capable of identifying and characterizing target molecules of >0.01%, low-level impurities
➢ Unique sequence analysis tools enhance additional values
➢ 100% quality control
Reference
Jihad El Andari, Dirk Grimm. Production, Processing, and Characterization of Synthetic AAV Gene Therapy Vectors. Biomanufacturing of Gene Therapy Vectors Volume16, Issue1 2021.