O-glycan analysis is a powerful analytical technique for qualitative and quantitative studies of O-glycosylation modifications in biopharmaceutical glycoproteins. This analysis technique can be used to determine the O-glycan structural composition and molecular content of protein drugs or other biological agents, and it can complete the analysis of the molecular structure of biopharmaceutical glycoproteins and the determination of free O-glycans.
Creative Proteomics is a partner with reliable professional resources for biologics research. We use advanced equipment and instruments and strong operability analysis methods to provide you with high-quality one-stop service. O-glycan analysis is an important part of the ICH Q6B specification. We will provide you with comprehensive and GLP / cGMP compliant O-glycan analysis services around the ICH guidelines (especially ICH Q6B) and the US FDA issues 'Points to Consider' document.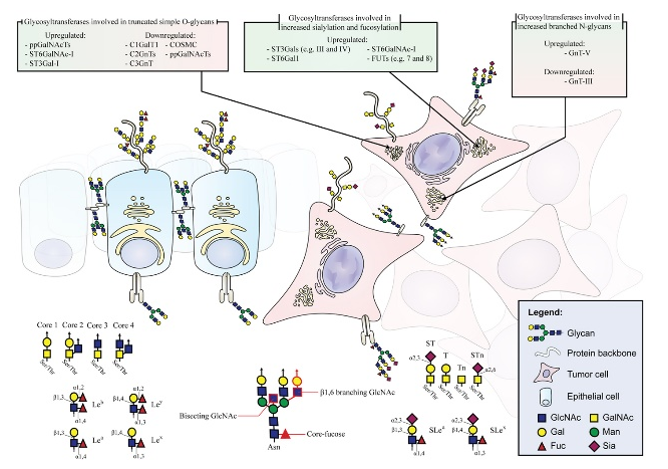 Schematic depiction of glycan alterations during malignant transformation (Mereiter Stefan et al. 2016).
We Can Provide but Not Limited to:
The types of O-glycans in glycosylated proteins analysis
Relative content analysis of O-glycotype in glycosylated protein
O-oligosaccharide chain structure analysis
Complete quality analysis of glycoprotein
Technology Platform of O-Glycans Analysis Service:
Creative Proteomics provides effective, sensitive and accurate analysis of O-glycan composition of protein drugs through technical analysis such as O-glycan release technology, fluorescence detection, electrospray ionization mass spectrometry (ESI-MS), hydrophilic interaction liquid chromatography fluorescence detection (HILIC-FLD), high-performance anion-exchange chromatography with pulsed amperometric detection (HPAE-PAD) and high-performance liquid chromatography (HPLC), etc.
We provide the following analysis methods:
1) Release O-glycans from glycoprotein or glycopeptide samples. First, after releasing the O-glycan, the size exclusion chromatography was used to remove impurities in the sample, and the addition of acetate acidified glycosaminoglycan derivatives was converted into free non-reducing polysaccharides. The resulting dry sample is used to remove polypeptides or proteins through a cation exchange column, and the sample is purified. Label the dried polysaccharide solution by external standard method, and use HILIC-FLD to combine MS and high pH anion exchange chromatography with HPAE-PAD for analysis and quantification of labeled O-glycans.
2) The large-pore amide HILIC column efficiently separates free O-glycans and then labels them with markers that increase the detection sensitivity of fluorescence detection and ESI-MS, which can easily obtain the O-glycan spectrum.
Advantages of O-Glycans Analysis Service:
Short time-consuming: The equipment used in this technology is highly automated, and the sample preparation steps are simple and easy to operate, which greatly reduces the time for identification and analysis.
High sensitivity: The analytical method combined with fluorescent labeling and mass spectrometry can obtain unprecedented sensitivity.
High resolution: The core of the O-glycans analysis workflow is a HILIC column specially designed for macromolecular separation, which enables higher resolution in the separation of macromolecular free O-glycans.
High throughput: The service technology can simultaneously analyze multiple glycoprotein samples.
Rapid turnaround time: 5-7 days to provide detailed technical report.
Customized service: We can customize professional solutions for you according to your research plan needs. You can choose or propose the required items for analysis.
Creative Proteomics's professional researchers can provide our customers with complete confirmation of the type of O-glycan in the biopharmaceutical protein and quantitative information about the type of O-glycan. In the technical report, we will provide you with a detailed technical report. The report includes the experimental steps, related mass spectrometer parameters, protein O-glycotype types and relative content, mass spectrometry pictures and raw data. We are committed to providing you with expertise in O-glycan analysis to help you solve problems related to analysis and technology.
References
PaHJnsn. Structural analysis of N- and O-glycans released from glycoproteins. Nature Protocols, 2012.
Robbe C, Capon C, et al. Microscale analysis of mucin-typeO-glycans by a coordinated fluorophore-assisted carbohydrate electrophoresis and mass spectrometry approach. Electrophoresis, 2010, 24(4):611-621.
Mereiter Stefan, Gomes Joana, et al. Glycomic Approaches for the Discovery of Targets in Gastrointestinal Cancer. Frontiers in Oncology, 2016.