O-glycosylation site analysis is an important part of glycopeptide characterization information analysis, and an important analytical technique in the process of biopharmaceutical research and development. This technology can study the structure and function of proteins to determine the composition and relative content of O-glycosylation sites of protein drugs or other biological agents.
Creative Proteomics is a reliable research partner in glycobiology with abundant resources. We are based on advanced testing equipment and highly operable analysis methods to provide you with professional one-stop service. The analysis of O-glycosylation site information is a key component of ICH Q6B normative operations. We will provide you with comprehensive and GLP / cGMP-compliant O-glycan site technical analysis services around the ICH guidelines (especially ICH Q6B) and the US FDA issues 'Points to Consider' document.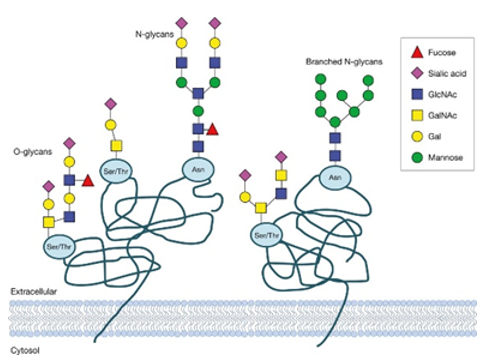 The general types of O-glycosylation site (Munkley et al. 2017).
We Can Provide but Not Limited to:
Identification of O-glycosylation sites in glycosylated proteins
Analysis of relative content of O-glycan
O-glycan structure analysis
O-oligosaccharide chain structure analysis
Released glycan analysis
Sequence analysis of O-glycosylation site modified peptides
Glycoprotein full molecular weight analysis
Technology Platform of O-glycan Sites Occupation Analysis Service:
Creative Proteomics uses endonucleases and exonucleases to partially degrade sugar chains, combined with liquid chromatography mass spectrometry and external standard methods to detect and identify glycoprotein O-glycosylation sites.
We provide the following analysis methods:
1) Use the PNGase F enzyme to release the sugar chain to generate deglycosylation sites on the peptide, and use external standard method to label 18O, and finally use Orbitrap to identify and analyze the O-glycosylation sites.
2) Digest the sample with an endonuclease, then prepare a sample with a GalNAc sugar tag, and then use a C18 reverse phase chromatography column to separate the protein sample, use mass spectrometry to obtain a mass spectrum, and use a database search to obtain O-glycosylation site information . The specific workflow is as follows.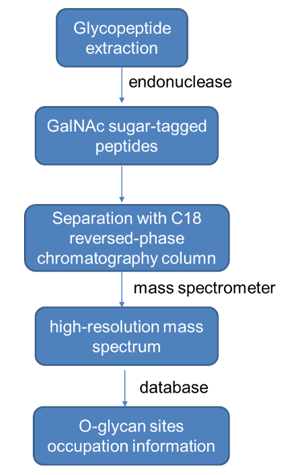 The workflow of the O-glycan sites occupation analysis technology
Advantages of O-glycan Sites Occupation Analysis Service:
Short time-consuming: The operation steps of this analysis technology are simple, and the equipment used has been automated, which greatly shortens the identification and analysis time for O-glycosylation sites.
High sensitivity: Use high-resolution mass spectrometry to achieve high-sensitivity detection targets.
High-throughput: The service technology uses automated laboratory equipment to simultaneously detect and analyze multiple glycoprotein samples.
Rapid turnaround time: 5-7 days to provide detailed technical reports.
Customized service: We can customize professional solutions for you according to your research plan needs. You can select or suggest the required items for analysis.
Creative Proteomics's professional researchers can provide you with more accurate and comprehensive analysis information of O-glycosylation sites in biopharmaceutical protein samples, and provide you with comprehensive technical reports such as experimental procedures, mass spectrometry and raw data, glycosylation site analysis information, etc. No matter what problems you have in the analysis of O-glycosylation sites, we will strive to provide you with more efficient and high-quality analysis and solutions.
References
PaHJnsn. Structural analysis of N- and O-glycans released from glycoproteins. Nature Protocols, 2012.
Robbe C, Capon C, et al. Microscale analysis of mucin-typeO-glycans by a coordinated fluorophore-assisted carbohydrate electrophoresis and mass spectrometry approach. Electrophoresis, 2010, 24(4):611-621.
Mereiter Stefan, Gomes Joana, et al. Glycomic Approaches for the Discovery of Targets in Gastrointestinal Cancer. Frontiers in Oncology, 2016.