2D-Western Blot assay is a fast, simple and accurate biochemical technique for the analysis of protein drugs or peptides. The combination of 2D-WB and mass spectrometry can effectively analyze the characteristics of proteins and antigens in specific antibodies.
The 2D-Western Blot technique is a combination of two-dimensional electrophoresis and traditional western blot. The general experimental process is that the antigen-protein mixture is separated by two-dimensional electrophoresis, then the gel protein is transferred to the supporting membrane, and the color is developed by antibody hybridization. 2D-WB technology has been widely used in the study of post-translational modification of proteins. 2D-WB technology also can be used to detect antigen isoelectric point or the tiny changes of molecular weight, the type of identification of the protein in different tissues or cells, and detection of specific protein expression in different tissue or cell level, qualitative or half quantitative analysis of protein, the other 2D-WB technology combined with mass spectrometry identification technology, also can be used to detect protein mixture immunity strong antigen.
Creative Proteomics is a reliable partner of biopharmaceuticals. According to ICH Q6B guideline. We can provide high-quality 2D-Western Blot assay service to identify differences between proteins (peptides), detect the expression levels of proteins or peptides, and better understand the expression levels, comparability, stability and pharmacogenetic characteristics of different tissues or cells.
We Can Provide but Not Limited to:
Identify the types of proteins in different tissues or cells
Separate proteins of different sizes, charges, and conformations
The expression levels of specific proteins in different tissues or cells were measured
Qualitative or semi-quantitative analysis of proteins
Detection of isoelectric points of antigens
Detect molecular weight changes of antigens
Results analysis of raw film and electronic pictures
An antigen that detects specific antibodies
The Workflow of 2D-Western Blot Assay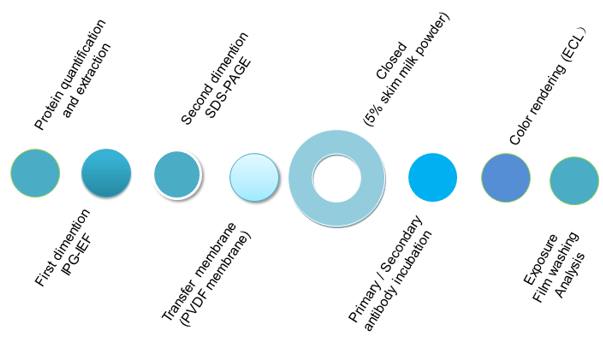 Sample Requirements
Samples should avoid all kinds of pollution and repeated freeze-thaw.
Transport in dry ice or liquid nitrogen packaging.
If the company does not have antibodies in its library, the customer needs to provide them no less than 5106 cells.
The tissue sample shall be no less than 50 mg.
The total protein concentration should not be less than 2 μL per liter (at least 50 μL).
2D-Western Blot Technical Service Report
Quantitative results of proteins and the amounts of samples on electrophoresis.
Original film, electronic pictures and picture analysis results.
Complete experimental report of 2D Western blot, including experimental procedures, instruments and reagents, etc.
Creative proteomics' analytical scientists can provide a clear, concise written report to help customers detect the expression levels of specific proteins in different tissues or cells, qualitative or semi-quantitative analysis of proteins and detects the specific antibodies of an antigen.