Importance of glycosylation with biopharmaceuticals
Glycoproteins are involved in immune defense, cell growth, cell-cell adhesion, and glycan chains that help mediate functions and have a myriad of complex structures that require effective analytical techniques for determination. Statistically, over 90% of protein-based drugs exit currently are glycoproteins. For example, many different forms of recombinant immunoglobulins (e.g., monoclonal antibodies) are used to treat harmful diseases, such as metastatic breast cancer and non-Hodgkin's lymphoma. These glycoprotein drugs contain complex oligosaccharide groups whose presence and distribution can significantly affect the efficacy, pharmacokinetic properties, immunogenicity, folding pattern, and stability of biopharmaceuticals. It is already known that certain glycosylated structures can lead to the aggregation of drug molecules and reduce drug efficacies. Therefore, stable manufacturing processes and effective glycoform characterization are required to maintain lot-to-lot glycoform consistency.
Requirements of the ICH guidelines (Topic Q6B)
The most common protein glycosylation types include N-glycosylation and O-glycosylation, with N-glycosylation more commonly present in nature. In order to ensure the consistency and stability of protein biopharmaceuticals, the relative content and type of N-linked glycosylated structures must be monitored throughout the fermentation, purification, and formulation process.
As required by the ICH guidelines (Topic Q6B), several glycosylations types, including mannose, galactose, fucose, and sialic acid, and the distribution of major glycoforms were needed to be monitored. However, focusing only on the structure of major glycoforms is not enough, and all N-glycoforms should be clarified. Nevertheless, qualitative and quantitative analyses of glycoforms are important as well.
Our Glycoprotein Characterization Services
Creative Proteomics is capable of supporting carbohydrate composition and site-specific glycan analysis services to characterize and optimize your glycosylated protein programs. Our glycoprotein analysis services specifically include:
Protein characterization analysis services
Determination of amino acid sequence coverage
Peptide profiling
Analysis of heavy chain, light chain, Fab and FC fragments
Analysis of intact proteins and detection of charge isomers
Detection of aggregates (dimerization and multimerization of proteins)
Identification of common post-translational modification (oxidation, deamidation, etc.) sites and occupancy analysis
Glycosylation analysis service
Polysaccharide analysis
Single intact sugar chains in glycoproteins, such as oxidized and acetylated sugar isomers are detected.
Sugar profile analysis
N-/O-glycosylation site identification and occupancy analysis
Identification and quantification of N-/O-glycoside glycoforms
Analysis of monosaccharides
Other analyses: including PEG modification site analysis of PEGylated protein drugs and others.
Workflow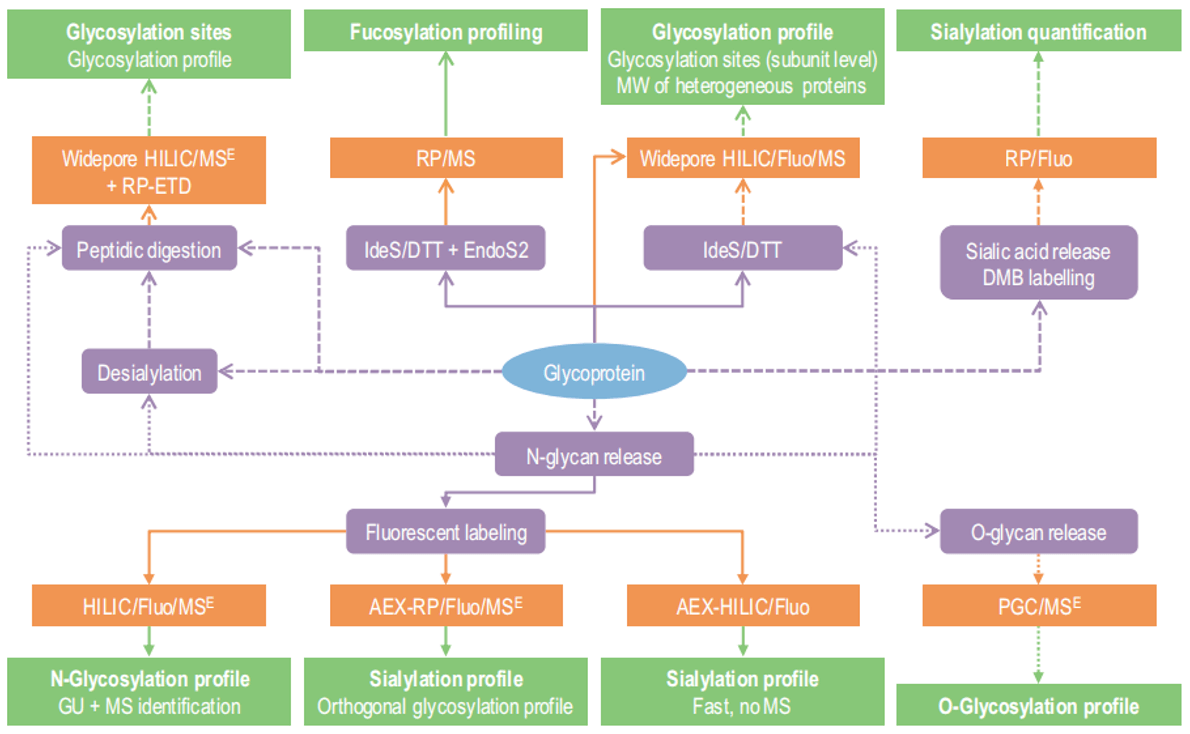 Simplified overview for the characterization of therapeutic glycoproteins
Advantage
➢ Precise and accurate
➢ Repeatable, operable and expandable
➢ High-resolution
➢ Extensive project experience
➢ Effective analytical method and reliable statistical analysis
➢ Short delivery time
Creative Proteomics strictly complies with the FDA and ICH guidelines to provide you with the most comprehensive antibody-related analysis services. In Creative Proteomics, a one-stop solution is tailored for your programs. We are confident in providing the most helpful technical support for drug discovery, manufacturing processes, and other special requirements. Please feel free to contact us if you have any further questions, and we look forward to cooperating with you.
Reference
Eric Largy, Fabrice Cantais, Géry Van Vyncht, Alain Beck, Arnaud Delobel. Orthogonal LC/MS methods for the comprehensive characterization of therapeutic glycoproteins, from released glycans to intact protein level. Journal of Chromatography A. 2017.