Amino acids are a group of chemically diverse organic compounds. The amino acid composition will determine the quality of polypeptides or proteins. As the requirements defined by the United States Pharmacopeial Conventin (USP), European Pharmacopoeia (Ph. Eur.), and other regulatory agencies, the qualitative and quantitative composition of medicines has to be determined. Therefore, it is essential and necessary to quantify and identify biopharmaceutical active ingredients, and determine impurities and related substances in active pharmaceutical ingredients. Amino acid composition analysis is a routine protein analysis method, which can be used to determine the composition and content of amino acids in biopharmaceutical products. Creative Proteomics will provide efficient, rapid and accurate amino acid composition analysis service during drug development, in accordance with ICH Q6B.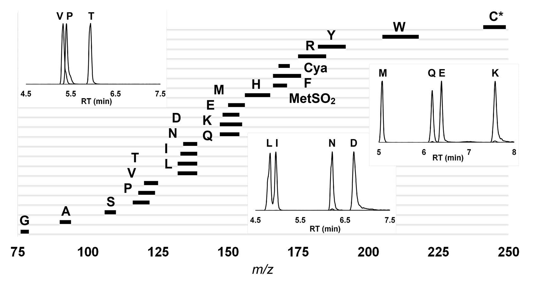 We Can Provide but Not Limited to:
Amino acid identification
Amino acid quantitation
Technology Platform of Amino Acid Composition Analysis Service
During amino acid composition analysis, samples are hydrolyzed into free amino acids which can be separated by (ultra) high performance liquid chromatography (UHPLC/UPLC or HPLC), gas chromatography (GC) or capillary electrophoresis (CE) prior to detection by fluorescence, absorbance, or mass spectrometry (MS). Since the derivatives have limited stability, fluorescence-based detection of amino acids might be compromised by interfering signals from naturally fluorescing compounds. Besides, the routine derivatizations in GC coupled with MS might degrade amino acids.
Our amino acid composition analysis service mainly contains 3 steps. 1) The peptide or protein samples will be hydrolyzed into amino residues. 2) The released amino acids with or without derivatizations will be separated utilizing hydrophilic interaction liquid chromatography (HILIC) columns. 3) Amino acids will be detected through tandem MS.
HILIC-tandem MS approach can circumvent difficulties, such as the limited stability, interfering signals, etc., and accurately quantify the amino acids composition of biopharmaceutical samples. According to your special requirements, optimized techniques will be deployed to quantitate amino acids.

Advantages of Amino Acid Composition Analysis Service:
Rich experience in protein analysis.
High sensitivity and accuracy to detect proteins with different post-translational modifications.
Advanced equipment: Prominence-xR UFLC (UPLC) system (Shimadzu), 5500 QTRAP LC/MS/MS system (SCIEX).
Rapid Turnaround Time: 5-7 days to provide comprehensive report.
Customized service: according to you sample type and sample size, optimized protocols will be deployed.
Creative Proteomics's experts can provide our customers with a precise amino acid composition analysis of biopharmaceutical products. You can choose HILIC-tandem MS approach to quantitate amino acids or discuss with our experiences experts. Clear and concise written reports including protocols and customized services will be offered during drug development.
More than amino acid analysis.
Want to learn more about amino acid analysis service? Please contact us.
References
Kambhampati S., Li J., Evans B.S., and Allen D.K. Accurate and efficient amino acid analysis for protein quantification using hydrophilic interaction chromatography coupled tandem mass spectrometry. Plant Methods (2019) 15:46.
Rutherfurd S.M. and Gilani G.S. Amino Acid Analysis. Current Protocols in Protein Science 11.9.1-11.9.37, November 2009.