Adhesives & Sealants Analysis Service
---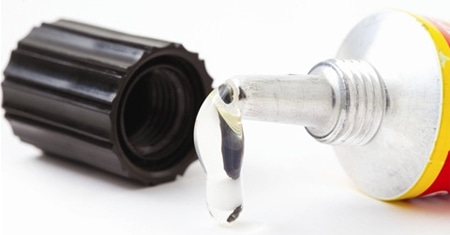 A sealant is viscous material that has little or no flow characteristics and which stay where they are applied; or they can be thin and runny so as to allow it to penetrate the substrate by means of capillary action. Sealants are designed primarily to close gaps between surfaces and to prevent things like dust, water, or debris from getting in to a given space. With the emergence of the chemical industry and synthetic polymers, the range of adhesive and sealant formulations exploded.
Creative Proteomics offers analyses and tests for a wide range of adhesives and sealants as follows:
•
Adhesives & Sealants Raw Materials
Starch and dextrin, gelatin (animal, fish, vegetable glues), asphalt and bitumen, natural rubber, resins, shellac, epoxy, polyurethane, cyanoacrylate, acrylic polymers…
•
Adhesives & Sealants Products
UV adhesive, metal bonding adhesive, epoxy adhesive, conductive adhesive, glue adhesive, adhesive tape, 3M adhesive, waterproof sealant, stone tile sealant, silicone gasket sealant, asphalt sealant, spray sealant, acrylic sealants, concrete sealants, deck sealant.
•
Adhesives & Sealants Ingredients
Curing agent, flexibilizer, diluent, filler, modifier
The tests and analyses available for adhesives and sealants at Creative Proteomics are as follows:
•Compositional Analysis
•Deformulation (reverse engineering)
•Comparison Analysis
•Contaminant or Impurity Identification
•Fault Detection and Diagnosis in Industrial System
•Product and Process Development
•Contract R & D
•Failure Analysis
•Mechanical and Physical testing
•Chemical Properties
•Identification of Unknown Material
Our customer service representatives are available 24 hours a day, from Monday to Sunday.
Inquiry