O-Glycan Profiling Service
---
O-linked glycosylation is a post-translational event where O-linked glycans attach to a polypeptide mainly through a glycosidic bond between the terminal monosaccharide residue and the OH group of serine or threonine residues. O-linked glycosylation may also occur through tyrosine, hydroxylysine, or hydroxyproline residues. O-glycans plays an important role in many biological processes: (i) protect the epithelial cells at the apical membrane from hostile environmental factors; (ii) block infection by pathogens; (iii) participate in cellular signaling events and so on. Unlike N-glycans, there is no known O-linked amino acid consensus sequence yet. The O-glycans are structurally diverse and they can be divided into several structural families with relatively heterogeneous core structures.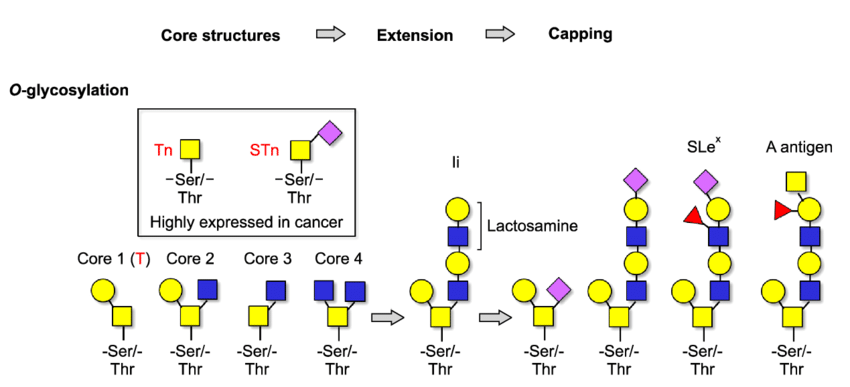 Figure 1. O-glycans are linked to a subset of serines or threonines.
Overview of O-Glycan Profiling Service
More than 60% of therapeutic proteins are post-translationally modified following biosynthesis by the addition of N-glycans or O-glycans. It is necessary to characterize glycans in efficient manufacturing processes so as to maintain continued biotherapeutics glycosylation patterns. At Creative Proteomics, we provide o-glycan profiling service to support the development and commercialization of therapeutic proteins. The workflow of our O-glycan profiling analysis is as follows.

Figure 2. Workflow for O-glycan profiling service.
Release. O-linked glycans are commonly released through reductive alkaline β-elimination.
Isolation. Released O-glycans can be enriched by hydrophilic interaction chromatography (HILIC). The linkage of each glycan form can be confirmed by the digestion with specific exoglycosidases.
Labeling. To improve high-performance liquid chromatography (HPLC)- and MS-based glycan analysis, released glycan are fluorescently labeled with 2-aminobenzoic acid (2-AA) or 2-aminobenzamide (2-AB).
Enrichment. Labeled o-glycans are enriched by IHLIC.
Detection. Enriched o-glycans are then detected by MALDI-TOF MS (matrix-assisted laser desorption/ionization-time of flight mass spectrometry) or ESI-MS (electrospray ionization mass spectrometer).
Sample Requirement
We work with a range of sample sources as follows.
Protein: 100 ug
Cells: 1×107
Animal tissues:1 g
Plant tissues: 200 mg
Anticoagulated blood (EDTA): 1 mL
Serum: 0.2-0.5 mL
Urine: 2 mL
Microbial sample: 200 mg (dry weight)
Advantages of O-Glycan Profiling Service
High-sensitivity, reproducible O-glycan patterns
A relatively fast turnaround time
High coverage of O-glycans
Work with complex biological matrices, like cells and tissues
Detailed reports including experimental procedures, parameters of liquid chromatography and mass spectrometer, MS raw data files, O-glycan profiling results, and bioinformatics analysis.
As one of the leading companies in the proteomics field with decades of experience, Creative Proteomics provides glycomics analysis service customized to your needs. Please contact us to discuss your project.
Reference
1. Zhang L, Luo S, Zhang B. Glycan analysis of therapeutic glycoproteins//MAbs. Taylor & Francis, 2016, 8(2): 205-215.
* For Research Use Only. Not for use in diagnostic procedures.
Our customer service representatives are available 24 hours a day, 7 days a week.
Inquiry