N-Glycosylation Site Occupation Analysis
---
N-glycosylation is one of the most prevalence protein post-translational modifications which is involved in many physiological and pathological processes. N-glycosylation site occupancy is a physiological feature of glycoproteins and mainly contributes N-glycan macroheterogeneity. The degree of N-glycosylation site occupancy by itself correlates with the severity of the disease. Currently the technical obstacles have restricted research into the regulation and functions of this heterogeneity. Characterizing the site-specific N-glycosylation including N-glycosylation site occupancy and site-specific glycan structure is important for understanding of glycoprotein biosynthesis and function. Quantification of N-glycosylation site occupancy would reveal the critical role of macroheterogeneity in a variety of biological properties.
For analysis of the glycosylation site occupancy, protein N-glycosidase F (PNGase F) is typically used to release the glycan from the protein. The formerly glycosylated asparagine undergoes deamidation and becomes an aspartic acid. The glycosylation site occupancy can be evaluated by comparing the abundance of the peptide containing aspartic acid to the one containing non-glycosylated asparagine. The general strategy of analysis of variable N-glycosylation site occupancy in glycoproteins comprise protein digestion, glycan release, glycopiptide separation by liquid chromatography and detection by mass spectrometry.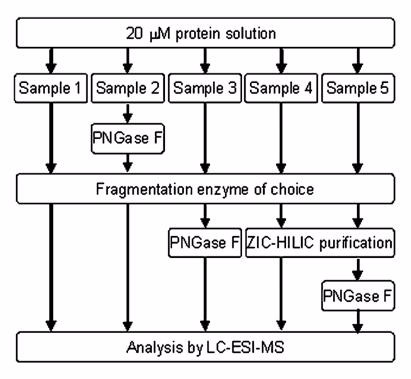 Figure 1. Workflow for Analysis of N-glycosylation site occupancy by LC-MS
There are also a couple of labeling or label free quantitative approaches to quantify N-glycosylation site occupancy by using LC-MS/MS.
As one of the leading companies in the omics field with over years of experience in omics study, Creative Proteomics provides glycomics analysis service customized to your needs. Contact us to discuss your project.
How to place an order:

*If your organization requires signing of a confidentiality agreement, please contact us by email.
Our customer service representatives are available 24 hours a day, from Monday to Sunday.
Inquiry