N-Glycan Profiling Service
---
N-glycosylation is the covalent attachment of an oligosaccharide (also referred to as glycan) to protein at asparagine residues by an N-glycosidic bond. This type of linkage is essential for multiple biological processes, including cell development and differentiation, cell-cell or cell-matrix communication, and pathogen-host interaction. Furthermore, the N-glycan components of biotherapeutics may primarily determine biological activity and therapeutic efficacy. Therefore, N-glycan patterns must be addressed for continued safety, purity, and potency of drug product and proteomics studies.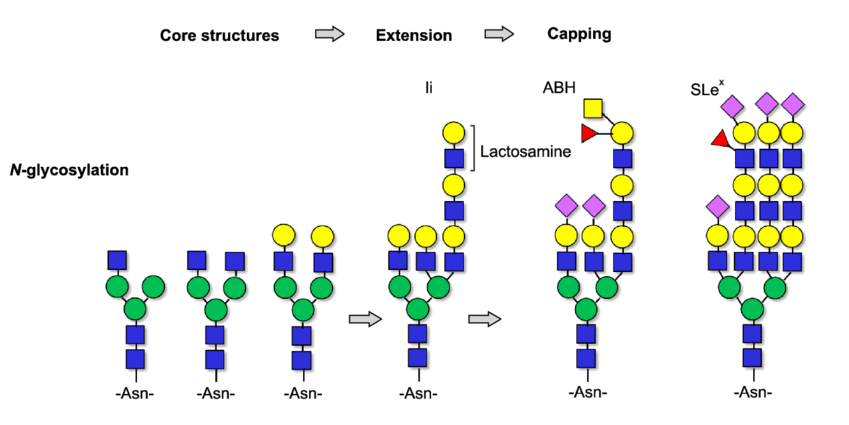 Figure 1. N-glycans are attached to asparagine residues of proteins.
Overview of N-Glycan Profiling Service
At Creative Proteomics, we provide comprehensive, reproducible, and high-throughput analysis of N-linked glycans present on monoclonal antibodies and other related glycoproteins. This service is dedicated to accelerating your biotherapeutics development projects by enabling rapid and reliable characterization, and routine analysis of N-glycan patterns in your samples for the assessment of product quality and consistency of manufacture in the development and production of protein pharmaceuticals.
Workflow of N-Glycan Profiling Service
Creative Proteomics provides the N-glycan profiling analysis for protein, antibody drug, peptides, etc., by utilizing MALDI-TOF-MS or HILIC-UHPLC MS. Hydrophilic interaction chromatography (HILIC) has been a powerful technology for N-glycan profiling.

Figure 2. Workflow for N-glycan profiling service.
Release. N-linked glycans are commonly released through peptide-N-glycosidase F (PNGase F) or peptide-N-glycosidase A (PNGase A).
Isolation. Released N-glycans can be enriched by UHPLC. The linkage of each glycan form can be confirmed by the digestion with specific exoglycosidases.
Labeling. To improve HPLC- and MS-based glycan analysis, released glycan are fluorescently labeled with 2-aminobenzoic acid (2-AA) or 2-aminobenzamide (2-AB).
Separation. Labeled N-glycans are separated by UHPLC fitted with HILIC columns.
Detection. Labeled N-glycans are detected by MALDI-TOF MS or ESI-MS.
Technology Platforms:
Hydrophilic interaction chromatography (HILIC)
Ultra-high-performance liquid chromatography (UHPLC)
High-performance liquid chromatography (HPLC)
Matrix-assisted laser desorption/ionization-time of flight mass spectrometry (MALDI-TOF MS)
Electrospray ionization mass spectrometer (ESI-MS)
Sample Requirements
We work with a range of sample sources as follows.
Protein: 100 ug
Cells: 1×107
Animal tissues: 1 g
Plant tissues: 200 mg
Anticoagulated blood (EDTA): 1 mL
Serum: 0.2-0.5 mL
Urine: 2 mL
Microbial sample: 200 mg (dry weight)
Advantages of N-Glycan Profiling Services
96-well format, fully automated sample preparation
Optimized for large-scale applications (e.g. during cell line selection, quality control, biomarker discovery and detection
Capable of detecting low abundance glycans (< 0.5% of total glycans)
Comprehensive reporting including experimental procedures, parameters, raw data files, N-glycan profiling results, and bioinformatics analysis
Creative Proteomics offers several service options according to your specific needs. Please do not hesitate to contact us if you have any further questions or concerns.
Reference
1. Duke C H T R. N-Glycan composition profiling for quality testing of biotherapeutics. BioPharm International, 2015, 28(12).
* For Research Use Only. Not for use in diagnostic procedures.
Our customer service representatives are available 24 hours a day, 7 days a week.
Inquiry