IPA Service
---
Ingenuity Pathway Analysis (IPA) is web-based software for the analysis, integration and interpretation of data obtained from omics experiments, such as proteomics, RNA-seq, small RNA-seq, microarrays including miRNA and SNP, metabolomics, and small scale experiments. IPA is one of the best functional analysis and knowledge discovery tool. It has been widely used by the life science community. Powerful analysis and search tools reveal the importance of data and identify novel targets or potential biomarkers within the context of biological systems.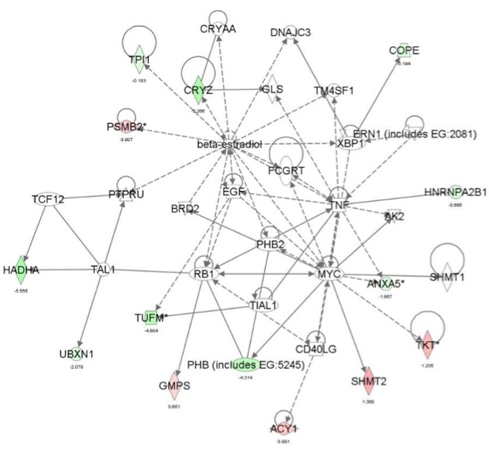 Advantages of IPA
Easy and flexible collaboration and results sharing.
Up-to-date high quality knowledgebase manually

curate

by scientists
Search for targeted information on genes, proteins, chemicals, or drugs
Direct import of gene lists from microarray analysis software such as PGS.
Extensive knowledge database on model organisms, such as human, mouse, rat and canine.
Main applications of IPA
Compare affected pathways and phenotypes across multiple testing conditions
Predict the activation and inhibition of upstream transcription factors
Quickly obtain knowledge on genes and chemicals
Identify potential biological impacts of custom networks
Dynamically build and explore bio-molecule interaction networks supported by literature findings
Generate testable hypothesis for your genes of interest
Identify the most relevant molecular networks, signaling and metabolic pathways, and biological functions for list of genes
How to place an order:


*If your organization requires signing of a confidentiality agreement, please contact us by email
As one of the leading omics industry company in the world! Creative Proteomics now is opening to provide IPA service for our customers. With over 8 years experience in the field of bioinformatics, we are willing to provide our customers the most outstanding service! Contact us for all the detailed information!
* For Research Use Only. Not for use in diagnostic procedures.
Our customer service representatives are available 24 hours a day, 7 days a week.
Inquiry