Identification of Bacterial Strains
---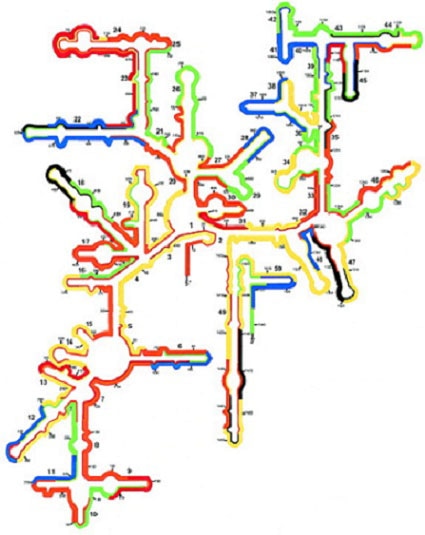 In the 1960s, Dubnau noticed the sequence conservation of the16S rRNA gene in different stains of Bacillus spp. Then the pioneering works of Woese, promote the widespread application of this gene for bacterial identification and taxonomy, based on the following advantages:
1 The presence in almost all the bacteria as a multi-gene family/operons;
2 The sequence changes only originating from random mutant; 
3 Large enough(1,542 bp) for bioinformatics purposes
The structure of the ribosomes remains mimimum alternation over time, due to the critical function, translating mRNA into polypeptides. As a component of the 30S small subunit of prokaryotic ribosomes, the highly conserved 16S ribosomal RNA (or 16S rRNA) between different species of bacteria and archaea, is frequently used for phylogenetic studies since it's simple to extract, copy and sequence the gene. Besides the highly conserved sequence of primer binding sites, 16S rRNA sequences contain hypervariable regions which can provide species-specific signature sequences, which primes for differentiation and identification of specific bacteria. Thus 16S rRNA gene sequencing has dominated in clinical microbiology and infectious diseases, as a rapid and economical alternative to conventional phenotypic methods of bacterial identification.
Creative Proteomics can help you to identify the bacteria or other microbes, through analysis of the16S rRNA, and provide rapid and robust analytical service to you. Our experienced analysts can help you to extract sequence and compare sequence information with counterparts in genome databases, to identify if the ID of the microbe you submit is correct, or if you have found any unknown microbes.
Our customer service representatives are available 24 hours a day, from Monday to Sunday.
Inquiry