Pesticide Residue Analysis Service
A pesticide is a substance or a mixture of substances, such as nematocide, herbicide and insecticide, used for killing pests that are dangerous to animals or cultivated plants. Application of pesticides to animals and crops may leave residues in or on food when it is consumed. Pesticide residues in feed products and food can cause substantial harm to the environment and people. Some legislation has been developed focused on minimizing potential dangers by regulatory organizations worldwide. Many maximum levels are set at the 'limit of quantification', so it is important to identify and quantify the pesticide residues.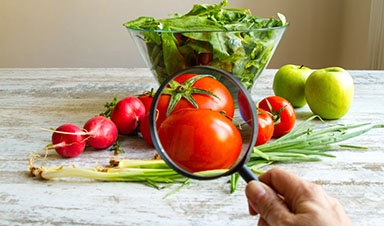 Pesticide Residues Analysis at Creative Proteomics
Analytical scientists at Creative Proteomics are highly experienced and knowledgeable in pesticide residues analysis, and our new techniques have been developed not only with quality in mind but also with speed of results, enabling us to provide results for the majority of pesticide residues with impressive speed. Based upon the extraction methods and equipment utilized, Creative Proteomics can analyze over 250 compounds listed in the FDA's(Food and Drug Administration) pesticide analytical manual volume I table 302-A, including but not limited to:
Organochlorines
Organophosphates
Organonitrates
Organosulfates
Methyl carbamates
Currently, the QuEChERS methodology (Quick, Easy, Cheap, Effective, Robust and Safe) is the fastest and most internationally recognized as a rapid extraction technique for pesticide residues analysis. Samples preparation using the QuEChERS method can be processed more quickly using a homogenization instrument. The QuEChERS method combines a first Liquid / Liquid Extraction (LLE) followed by a second Solid Phase Extraction (SPE), and next analysis by gas-liquid chromatography or liquid-liquid chromatography.
In addition to QuEChERS method, Creative Proteomics has developed innovative, simple, fast and multi-residue methods that can obtain the largest scope pesticide residue with providing the highest possible assurance. Our methods include but are not limited to:
Gas chromatographs (GC)
Mass spectrometers (MS)
Liquid chromatography-mass spectrometry (LC-MS)
High performance liquid chromatographs (HPLC)
Hydrophilic interaction chromatography (HILIC)
Ultra performance liquid chromatography (UPLC)
Our Advantages
Minimize handling errors while providing high recovery yields.
More than simply increasing yields of extraction, reducing costs and time associated with pesticide separation.
Significantly diminish the interference from waste solvents and other chemicals.
High quality, high purity analytical standards ensuring accurate and reproducible analysis.
Creative Proteomics strictly complies with the quality assurance/quality control plan and regulatory requirements of each country and region to provide support to you, including but not limited to the following criteria and methods:
➢ ISO
➢ FDA/BAM
➢ ASTM
➢ AOAC
➢ EC 1935/2004
➢ LFGB
➢ DGCCRF
➢ DM 21/03/1973
➢ JFSL
➢ GB/T & SN
➢ UAE.S / GSO 2231: 2012
Based on years of experience in pesticide residues analysis, Creative Proteomics assures that the clients can obtain accurate and timely analytical results. And we can analyze pesticide residues in raw agricultural products, plant tissues, processed foods, spices, water, herbs, soils and so on. We look forward to cooperating with you.
Reference:
1. Tuzimski T. Methods of Pesticide Residue Analysis. Journal of AOAC International. 2014, 95(5) 1255-1258.
* Not intended for personal food safety testing.