Olive Oil Analysis Service
Olive Oil Analysis Service
Olive oil is a liquid fat extracted from olives. The composition of olive oil varies with extraction process, the cultivar, altitude and time of harvest, and it is mainly of oleic acid (up to 83%), with smaller amounts of other fatty acids including linoleic acid (up to 21%) and palmitic acid (up to 20%). Based on the standards of the International Olive Council and the voluntary United States Department of Agriculture labeling standards in the United States, the grades of olive oil can be classified as:
Extra virgin olive oil: The highest grade of virgin oil, it is required to have no more than 0.8% free acidity and is judged to have a superior taste, having some fruitiness and no defined sensory defects.
Virgin olive oil: It is a lesser grade of virgin oil, with free acidity of up to 1.5%, may include some sensory defects and is judged to have a good taste.
Refined olive oil: It has a free acidity and is expressed as oleic acid. Its other characteristics are in accordance with those fixed for this category in this standard.
Olive pomace oil: It is refined pomace olive oil, often blended with some virgin oil.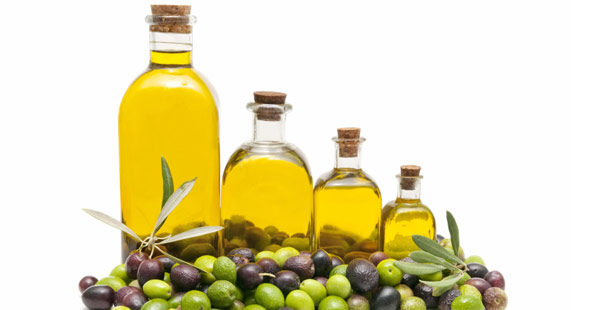 Olive oil is almost unique among vegetable oils that can be consumed. And it is also used in cosmetics, soaps, and pharmaceuticals, and as a fuel for traditional oil lamps, and has additional uses in some religions. However, less than 10% of the world's olive oil can be classified as extra virgin olive oil that commands a higher price on the international market than other vegetable oils. Some manufacturers combine other oils with their olive oil to create blends but try to market the olive oil as extra virgin – charging a premium price but having lower costs. Therefore, there is a need for high-quality olive oil analysis to define the grades and contents.
Olive Oil Analysis at Creative Proteomics
Creative Proteomics is highly experienced and knowledgeable in the application of analytic techniques and analyses for olive oil, and we can provide various analysis services, such as test the peroxide value and the content of acidity to determine if the olive oil has been altered with sub-par ingredients. There are various compounds that can be tested, including but not limited:
Free fatty acid (Acidity)
Fatty acids composition
Ethyl esters fatty acid
Halogenated volatile solvents
Insoluble matter
Moisture and volatile matter
Waxes content
Sterolic composition
Alifatic alcohols
Diglycerides
Tocopherols
Total polyphenols
Pesticides residues
Phthalates
Based on legend experience on olive oil analysis, Creative Proteomics offers you a state-of-the-art platform for sophisticated olive oil analysis with the American Oil Chemists' Society (AOCS) approved and recommended analysis methods, including but not limited:
Liquid chromatography (LC)
High performance liquid chromatographs (HPLC)
Capillary column chromatography
Fourier-transform infrared spectroscopy (FTIR)
Spectrophotometric analysis in ultraviolet (UV)
Gas chromatography-mass spectrometry (GC-MS)
Gas chromatography/flame ionization detection (GC/FID)
At Creative Proteomics, experienced staff with professional knowledge can provide high-quality and high-efficient analysis for olive oil. Moreover, if you have any other needs, we would love to design studies to address clients' specific requirements. We are looking forward to cooperating with you.
Reference:
1. Casiraghi A, et al. Extraction Method and Analysis of Cannabinoids in Cannabis Olive Oil Preparations. Planta Med. 2018, 84:242–249.
* Not intended for personal food safety testing.