Food Additives Test
According to the Food and Agricultural Organization (FAO) rules and the World Health Organization (WHO) Joint Food Rules Committee, food additives are non-nutritive substances added to foods to improve the appearance, flavor, organizational structure or storage property. Food additives can be classified into dozens of categories, including thousands of types. Common food additives include acidity regulator, antagonist, defoaming agent, antioxidant, bleacher, leavening agent, colorant, color fixative, flavor enhancer, nutrition enhancer, preservative, sweetening agent, thickening agent, spice and so on.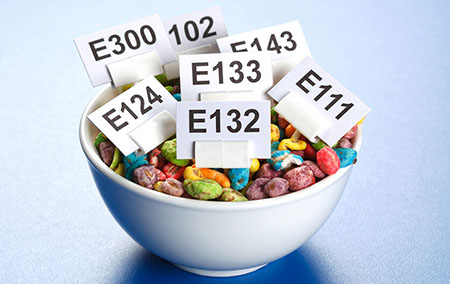 Food additives must be added to foods in small quantities. The usage of food additives need to be tightly controlled as excessive usage can be harmful to human health. However, some food producers use food additives improperly for the pursuit of food appearance and storage, which makes tests on food additives necessary to ensure food safety.
Food Additives Test at Creative Proteomics
Creative Proteomics offers food additives test services to detect and quantify most food additives with high sensitivity and efficiency. Our food additive test items include preservatives, sweetening agents, synthetic pigments, antioxidants, and banned food additives, and are in accordance with the WHO standard for food additives.
Table1. The food additives analysis at Creative Proteomics
| Category | Item |
| --- | --- |
| Preservatives | Preservatives are substances that are added to foods and are used to increase the shelf-life of a food product while retaining its nutritional value. Sorbic acid, potassium sorbate, benzoic acid, sodium benzoate, dehydroacetic acid, natamycin, propionate and other preservatives can be analyzed with our experienced staff. |
| Sweetening agents | Sweetening agents, also known as sweeteners, is a food additive that provides a sweet taste like that of sugar while containing significantly less food energy than sugar. Acesulfame, cyclamate, saccharin sodium, aspartame and other sweentening agents can be analyzed at Creative Proteomics. |
| Synthetic pigments | Synthetic pigments, known as food coloring or color additive, are any dye, pigment or substance that make them more attractive to the eye of the consumer and also compensate for natural color variations when it is added to food or drink. Carmine, amaranth, lemon yellow, and other synthetic pigments can be tested with our experienced staff. |
| Antioxidants | Antioxidants are compounds that inhibit oxidation and are used as food additives to help guard against food deterioration. We can analysis beta hydroxy acid, butylated hydroxytoluene, tertiary butylhydroquinone, propyl gallate and other antioxidants. |
| Banned food additives | Certain food additives are in the list of banned food additives, because of many reasons and one of these is the hazard it presents to the consumer in the form of allergies and reactions. Melamine, malachite green, crystal violet, and other banned food additives can be analyzed. |
Our Advantages
State-of-the-art instrumentation and advanced technology for food additives test.
Experienced scientists enable us to deliver consistent and high-quality data with cost-efficiency.
Our analysis program can combine with other techniques of our expertise in the field, so the professional analysis of food additives can be easily obtained.
Creative Proteomics strictly complies with the quality assurance/quality control plan and regulatory requirements of each country and region to provide support to you, including but not limited to the following criteria and methods:
➢ ISO
➢ FDA/BAM
➢ ASTM
➢ AOAC
➢ EC 1935/2004
➢ LFGB
➢ DGCCRF
➢ DM 21/03/1973
➢ JFSL
➢ GB/T & SN
➢ UAE.S / GSO 2231: 2012
Creative Proteomics is a professional biotech company, specializing in offering a set of services for food additives test with high sensitivity and efficiency in accordance with the WHO standard for food additives. Based on professional knowledge and experienced staff, we can provide a wide range of information about food additives. If you have any questions or specific needs, do not hesitate to contact us.
Reference:
1. He, S; et al. Multivariate qualitative analysis of banned additives in food safety using surface enhanced Raman scattering spectroscopy. Spectrochimica Acta Part A: Molecular and Biomolecular Spectroscopy. 2015, 137: 1092–1099.
* Not intended for personal food safety testing.