Beer Analysis Service
Beer is one of the most widely and oldest consumed alcoholic drinks in the world, the basic ingredients of beer are water; a starch source, such as malted barley, able to be saccharified (converted to sugars) then fermented (converted into carbon dioxide and ethanol); a flavoring such as hops; and a brewer's yeast to produce the fermentation. During the brewing process, fermentation of the starch sugars in the wort produces carbonation and ethanol in the resulting beer. Most modern beer is brewed with hops, which act as a natural preservative and stabilizing agent and add bitterness and other flavors. Other flavoring agents such as fruits, herbs, or gruit may be included or used instead of hops. In commercial brewing, the natural carbonation effect is often replaced with forced carbonation and removed during processing.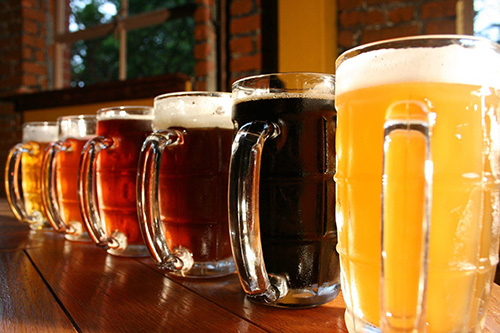 Beer contains ethanol, which is an alcohol, and has short and long-term effects on the user when consumed. Different concentrations of alcohol have different effects on the human body. When drinking beer, there are many factors should be considered. Principal among them is bitterness, the variety of flavors present in the beverage, along with their alcohol content, intensity, and color. A more uniform and objective determination to be made on the overall qualities of any beer standards for those characteristics allow.
Beer Analysis Service at Creative Proteomics
With long-standing experience in beer analysis, Creative Proteomics can offer a state-of-the-art beer analysis platform including the proteins, carbohydrates, flavors, aroma, and much more analysis. And the analytical scientists at Creative Proteomics are highly experienced and knowledgeable in the application of beer analysis techniques with the combination of gas chromatography-mass spectrometry (GC-MS), time-of-flight -mass spectrometry (TOF-MS), inductively coupled plasma mass spectrometry (ICP-MS) and more technical. Our services include but are not limited to the following:
1) Beer aroma analysis
2) Beer sample types analysis
3) Two beer sample comparison
4) Wort, beer, malt, and grains' protein content Analysis
5) Off-flavor chemicals analysis
6) Quality analysis, including beer, hops and malt
7) Nitrogen in wort and beer
8) Chemical analysis:
• Volatile and semi-volatile compounds analysis
• Alcohol, color, carbohydrates, pesticides, herbicides, anions and more
Creative Proteomics is a professional biotech company specializing in offering a set of services for beer analysis. We have a team of scientists expertized in beer analysis to support your research and project needs at the location of your choice. Our experienced scientists and advanced techniques enable us to deliver consistent and high-quality data with cost-efficiency. We look forward to working with you in the future. Please contact us to find out more about our services.
References:
1. Roos, D.J.; et al. The interior surfaces of wooden barrels are an additional microbial 2 inoculation source for lambic beer production. American Society for Microbiology. 2018, 2(22):16-70.
2. Wu, M.J.; et al. Identification of a Protein with Antioxidant Activity that is important for the Protection against Beer Ageing. International Journal of Molecular Sciences. 2011, 12: 6089-6103.
* Not intended for personal food safety testing.