Antioxidants Analysis Service
Exposure to oxygen and sunlight are the two main factors in the oxidation of food, so food is preserved by keeping in the dark and sealing it in containers or even coating it in wax. However, as oxygen is also important for plant respiration, storing plant materials in anaerobic conditions produces unpleasant flavors and unappealing colors. The most common molecules attacked by oxidation are unsaturated fats, so it is important to avoid oxidation in fat-rich foods. Antioxidants are used as food additives to help guard against food deterioration.
What Is Antioxidants?
Antioxidants, especially an important class of preservatives, are compounds that inhibit oxidation. Unlike bacterial or fungal spoilage, oxidation reactions still occur relatively rapidly in frozen or refrigerated food. Preservatives include natural antioxidants such as ascorbic acid (AA, E300) and tocopherols (E306), as well as synthetic antioxidants such as propyl gallate (PG, E310), tertiary butylhydroquinone (TBHQ), butylated hydroxyanisole (BHA, E320) and butylated hydroxytoluene (BHT, E321). Some fatty foods such as olive oil are partially protected from oxidation by their natural content of antioxidants, but remain sensitive to photooxidation. Antioxidant preservatives are also added to fat based cosmetics such as lipstick and moisturizers to prevent rancidity.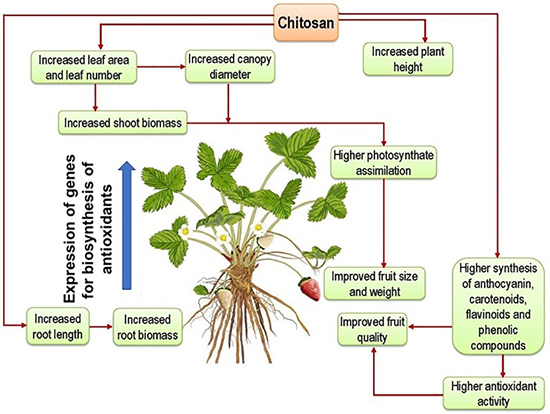 Figure 1. A hypothetical pathway of stimulation of fruit yield and accumulation of antioxidants in strawberry fruit festival by the foliar application of chitosan. (Rahman, M.; et al. 2018)
Antioxidants Analysis Service at Creative Proteomics
Assessment of antioxidant capacity of natural products has been regarded as a basis for recommending of antioxidants foods for consumption. Based on professional knowledge and experienced staff, Creative Proteomics can provide different evaluation assays for assessing the antioxidant capacities, including but not limited:
Trolox equivalence antioxidant capacity (TEAC) assay
Ferric ion reducing antioxidant power (FRAP) assay
Oxygen radical absorbance capacity (ORAC) assay
Folin–Ciocalteu reagent (FCR) assay
Total radical trapping antioxidant potential (TRAP) assay
Inhibiting the oxidation of low-density lipoprotein (LDL) assay
Cellular antioxidant activity assay
In addition, we have unparalleled platforms and rich-experienced researchers for testing antioxidants. There are the antioxidants in food we can test, including:
Vitamins: vitamin A, vitamin C, vitamin E and so on.
Vitamin cofactors and minerals: coenzyme Q10, manganese, iodide and so on.
Vitamin cofactors and minerals: melatonin etc.
Other nonflavonoid phenolics: alpha-carotene, astaxanthin, beta-carotene, canthaxanthin and so on.
Flavonoids: flavones, flavonols and so on.
Phenolic acids and their esters: chicoric acid, chlorogenic acid and so on.
Other nonflavonoid phenolics: curcumin, flavonolignans, xanthones and so on.
Creative Proteomics is a professional biotech company, specializing in offering a set of services for antioxidants assays. Our analysis program can combine with other techniques of our expertise in the field, so the professional analysis of antioxidant can be easily obtained. In addition, our experienced scientists and advanced techniques enable us to deliver consistent and high-quality data with cost-efficiency. If you have any questions or specific needs, do not hesitate to contact us.
References:
1. Rahman, M.; et al. Chitosan biopolymer promotes yield and stimulates accumulation of antioxidants in strawberry fruit. PLoS One, 2018, 13(9):18-25.
2. Xu, D.P.; et al. Natural Antioxidants in Foods and Medicinal Plants: Extraction, Assessment and Resources. Int. J. Mol. Sci. 2017, 18, 96.
* Not intended for personal food safety testing.